August 2008 News
Here is Gill, the dogs and I raising funds for the Hope Bear Foundation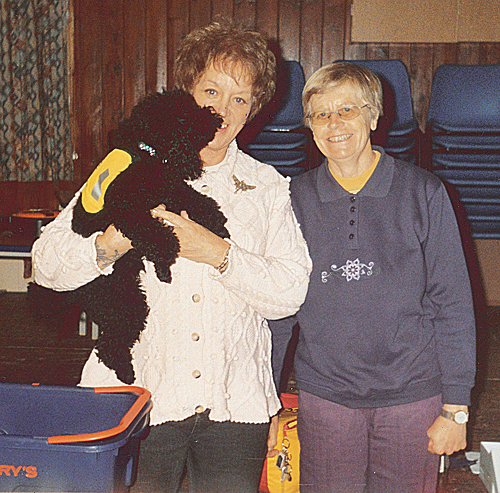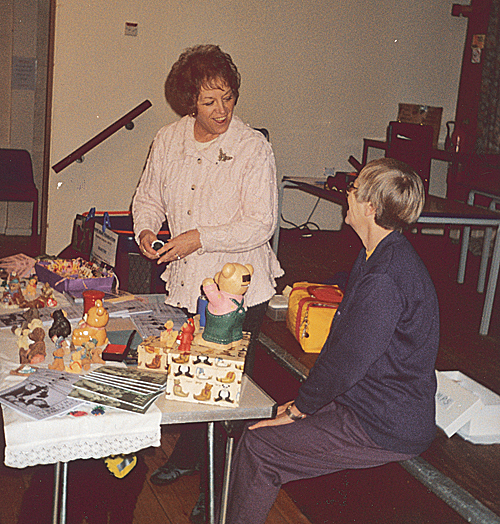 Pepi the black poodle now joins 'Natasha' the 7 year old Russian working hard as a PAT Dog at
Addenbrooks Cancer unit Cambridge. We also help out on the Stroke units and speech therapy Departments.
---
In September I will fly once again to Chernobyl in Russia, to the Children at the hospitals and clinincs
in Chernigov the town close to the Nuclear reator disaster in the 80's.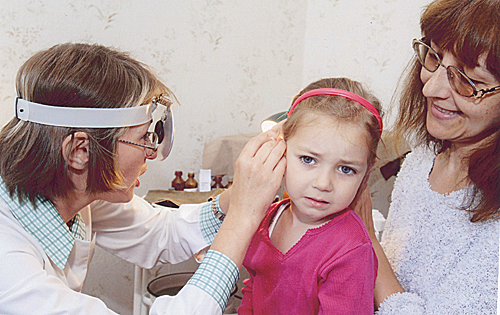 Hundreds of children are still being born with deformaty and hereditry defects.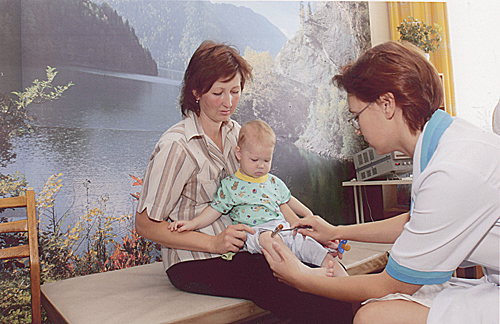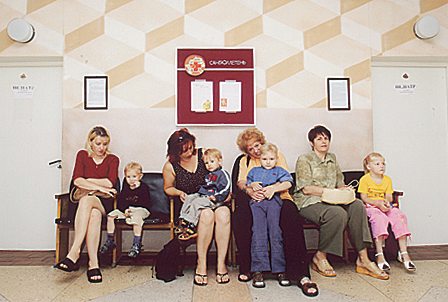 Parents who were close to the area as children in 1986 now hand on the problems.
I am going to take gifts and finance, and sadly, to say 'Goodbye' as this is to be my last trip
We have made quite a difference to their lives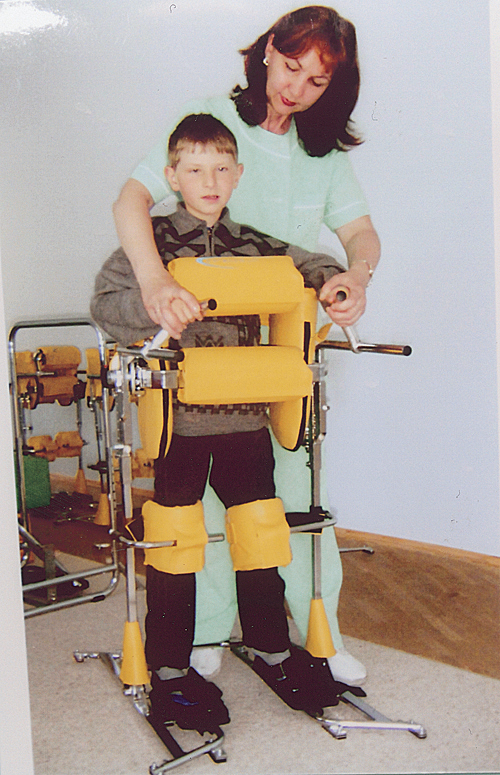 But the trips are becoming more difficult with age.
Bob has to stay at home to take care of all our 'Russians' and of course the poodle!
AID NEWS - FEBRUARY 2004.
When I went to Chernigov at the christmas trip 2002 it was incredibly cold the temprerature
dropped at night to 20 degrees below zero. As usual on Christmas eve (January 6th) we left
the warmth of the flat in the high-rise block we stay on our visit, late at night to go to the square
of Chernigov. Pony rides are arranged and icehouses built in the snow. Children are fetched
from all over town and the villages. They are drawn to the church which is open all night,
the priests chant and this very holy night.
We handed candies and ifts all night to these cold, sick and dark eyed parents. It is an
important time for us to meet them. Out in thedarkness we see many we wont get to
meet at our clinics. My face was so cold my eyes watered. But I didn't really notice.
When I came home my tear ducts bled and my eyes were sore for weeks. In September
I finally went to the opticians to have new glasses. As my eyes were so fuzzy.
I have cataracts in both eyes, she said. So that was the reason my September trip
had been so difficult for me. I at last realised I wrote to Doctor Hanna and I did not
go over to them at Christmas 2003. But I did have withdrawl symptoms.
February a phone call told me why, Our dearest 'Boris' the driver and minder I had met on
my earlier trips had died, suddenly, without any word he had gone. I sat on the sofa, as
tears dripped from my chin, in silence, in shock, how could this have happened? I asked,
How? One phone call lated to ask for the visa, which Doctor Hanna faxed back at once that afternoon.
Tuesday morning , off to London to the Embassy with passport and papers, Wednesday phone
call to Ray my mate in Doncaster, will you come? I asked, he said "Of course" so its off again
with bags and baggage on february 11th, warm coat, new hat, and glasses and eye drops.
"Hope Bear Foundation" funds for the children of Chernobyl in the trolly.
Maybe, my eyes hve seen the Holocaust, so I don't ned them opened now.
I thought they were cloudy with tears....silly me.
---
AID NEWS - MAY 2003
At the begining of May a van left Saffron Walden to go to Chernigov to Dr Hanna at the Polly Clinic.
We had been requested to send a new supplement type tablet to Anastasia the little girl we help
who is silent with severe autism problems.
So we raised money to buy the capsules for her. Perry my son sent to the drug company
and they came in the post. Her mothers named Oksana, she was so delighted to receive
the capsues, so I received an email from my friend Igor telling me they had arrived safe and sound.
My friends Gina & Martin who have a Russian Black Terrier puppy from our Cleyra & Kris also got
for Anya, a silver metal walking frame to aid her to stand up alone. So thanks go to them,
it went on the van along with knitted jumpers and blankets for the orphanage and William
the old gent who went, took £500 from the church with much needed stethascopes for the
hospital - so it was a very successful trip.
They all attended the May day celebrations and laid flowers at the memorial for their soliders
which was much appreciated.
Our Hope Bear Foundation raised good amounts at our outings in May, Audley End Mansion
3 day event our stall sold lots of bric-a-brac and Bretwood 2 days the dogs Nina, Cleyra, Zorky,
Natasha and not forgetting Harry the little Norwich Terrier raised nearly £700 which will go out
this year when I go again to the children of chernobyl.
But I'm too busy at the moment what with new grandson 'Reuben' born in may and puppies from
Anastasia born on the 14th of May. although I did manage to get to the Bath Championship Show
on 25th of May which was wet (as usual). Our dog Zorky, 18 months old
Potterspride Total Eclipse - won Open Dog and Reserve Best Dog.
Keep in touch!
Violet
HOPE
Most of you know about the trips out to the children of Chernobyl area of Ukraine.
The town of Chernigov, just 17 miles from the exclusion zone of the Chernobyl disaster area.
We go to "The Polly Clinic", which administers to 35,000 children damaged by the effects of radiation.
The legacy the parents carry in their genes is passed on to the innocent babies born in that area.
Many, of course, do not survive. Of those who do, 98% are positive to carry problems such as Cancer,
Thyroid, Leukemia, various deficiencies, Autism etc.
Each time I return I write stories of those children I meet on the trips.
Then, with the help of my family members, we together produce little coloured paper backed books.
The first one was called "The Pink Book". Since which have come many more colours of the rainbow Ü-
Blue, Yellow etc.
The Violet book told of the Bears from Ely, given for the passing of Holly and Jessica in August 2002.
One named HOPE. Hundreds of Teddy Bears we took as gifts for the sick or Orphans of Chernigov,
with the blessings of the families in Soham. Our white van took them in September.
When we returned from the Christmas trip January 6th 2003, I wrote the cold little "Blue Book".
I told a mothers story of Oksana and her little girl of 5 years old. Her name is "Anya", she is totally silent,
Autistic, unable to walk, incontinent, so severely affected, no medicine is available in their country to help Anya.
She is the most delicate, beautiful child. I sent the book by post to Oksana.
In April I received a letter, the reply, Oksana had heard of a drug produced by a company in the U.S.A.,
which is not yet available in Russia. She printed the name for me, so I went to my local chemist.
The lady looked in her Mims catalogue, but she said, 'it was not available here in the U.K. either'.
She gave me the company in Florida. A phone call to my son, Perry. He emailed the company in Florida
direct on the Internet for me. The next day a reply came. Just one company had imported this drug to the U.K.
Here was the name and telephone number. So a phone call pleading for help.
Did we need a doctor to give us a prescription? This was our problem...We waited...a pause...
then a phone call back, we could buy it ourselves. It's O.K., they said YES!!! So now, by post come
the drugs. In sunny May, the white van goes again to Chernigov to Doctor Hanna at The Polly Clinic.
To Oksana and Anya, on board -six months supply -
Never Never Give up 'Hope'....
'HOPE' is a wonderful word.
Don't you just love a happy ending?
HOPE BEAR FOUNDATION
Most people know about the September Trip I did to the Orphanage outside Chernigov to
the sick children of Chernobyl. (beIow) I took the teddy bears from Ely cathedral and the Church of Sohem.
The bears were left by the Mourners of the two little girls Holly & Jessica.
The one bear I carried in my flight bag, with a label around his neck we named Hope Bear
We have now founded our charity, which is named 'Hope Bear Foundation'
On May the 10th and 11th we are going to the 'All about dogs' day at the Brentwood Centre Showground
We hope to take the stall with all - infornation - so do try to come along and fetch your own dogs
The First Trip of 2003
On January the 4th I am flying once again to - The orphans of Chenobl - we will arrive
just in time for their Christmas (january 7th). A lorry is going this time and will meet us
there carrying all the Aid we have received from all of you. I will be taking some much
needed money raised from donations and stalls over the last 6 months. this will
help with the ongoing renovation of the orphanage as well as essential medical and
food supplys. I will let you know how I get on when I get back.
Until then thanks go to everybody who has supported us, keep up the good work.
Violet
In a Perfect World of Dogs
There would be no long coated German Sheperds
There would be no white boxers
There would be no fluffy corgis
There would be no mis marked Newfoundlands
There would be no dwarfs in any breed
There would be no soft coated terriers
In a Perfect World
There would be no downs syndrome
There would be no dwarfs
There would be no hare-lips
There would be no blind children
There would be no deaf children
There would be no cancer??
Am I boring you?
Some of us pick up the pieces
So sorry itÍs not a perfect world
Violet Slade

Love from Hope Bear
Never give up hope
---
A Bear Named Hope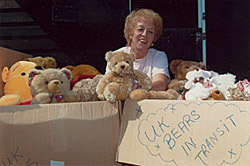 It was a warm sunny day in the little village of Soham. Two families decided to have a barbeque
together in the garden. The two little girls, Holly and Jessica, were best friends and ten years old.
They played together, attended the same school so it was natural for them to leave the adults busy
in the garden and go inside to play with the computer and then go off for a walk into the village.
People saw them walking and as evening came the parents noticed they had not returned.
Becoming more anxious they started to worry and look for them. The police were informed and
friends of the families started to search for the two little girls but could not find them. An appeal
was made on the television. Newspapers became involved, the days slipped by - now the whole
nation was aware and many people came to the area to help in the search,
The days slipped into weeks. The families made more appeals but still no news came.
The search moved into the school buildings and fears grew as the caretaker's house was searched.
His car was checked and slowly the awful truth became clearer.
The police announced that people out walking in the woods had discovered human remains
and after forensic tests the police sadly confirmed that the remains were those of Jessica and Holly.
The caretaker and his femalre partner were arrested by the authorities.
The village was shocked, the children cried, the whole country mourned the loss of Holly and Jessica.
It was in shock and horror at this tragedy that so many people came to the village of Soham to mourn.
St Andrews church was the centre for their grief. Many wanted to show their sadness, they brought gifts,
flowers, toys and most of all Teddy Bears - These bears filled the church, hundreds and hundreds
of bears, all shapes, all sizes, all colours they came, sitting saring wide-eyed, side by side in pews,
on the floor, in the church yard, amoung the flowers, in the grass and along the pathways.
The bears spilled out the nations grief - a symbol of comfort to a child, a small reminder of everyone's
childhood. Now, for Holly and Jessica snatched away so suddenly - two young lives so sudenly
and so violently ended.
A service was held for the people of Soham on a cloudy Friday morning in St Andrews church.
The vicar Tim Aubry Jones held the hundreds of people together with words of comfort for those
who grieved. The church full to bursting, the nation looked on - silence.
So weeks passed by, the world still turned, the days passed - what to do with all those Teddy bears?
So many, an ocean of bears.
The tears they had shed needed to be dried . So an idea began to bring hope and smiles from
the sadness. The bears were packed by loving hands in that church - stacked.
A big white van arrived
Here was the start of a journey to a far off place, of sadness - The orphans of Chenobl - hundreds
of sad children who were orphaned by a disaster which also rocked a nation years ago in the
1980's. A disaster which so badly affected a country, the results may take centuries to mend.
Sickness and pain for generations.
One small bear was labelled HOPE and he travelled alone in a flight bag to Gatwick airport. On to
an Air Ukraine plane bound for Keif, then into the old rattling ambulance, on to the bumpy road
(now familiar) for the long journey to the town of Chernigov - his head sticking out of the topo of the bag.
On his journey he met so many friends. many hands held him, many kisses given by well wishers
for a safe trip - such a small ambassador "Hope Bear". He arrived safely at the poly clinic -
all waiting for the white van which would bring others, overland.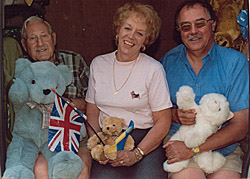 William, Myself and Fred
Their trip had taken four days. The drivers had slept in their vams with their loads, on makeshift beds
in sleeping bags, Every inch of space taken up by boxes and bags of aid. Shoes, socks, clothes, food,
drugs, medicine, collected by the people in the UK who send a little love in a shoebox to
a sick child in need, miles away, children they will never meet.
On this trip four vans arrived at the old ramshackle building in the centre of Chernigov. The Poly Clinic.
Eagerly awaited by the staff. Many hands of staff and parents unload the much needed supplies.
The boxes of teddies squeezed in and now unloaded into black bags they are taken on to an old
rusty ambulance. The flight bag with Hope in side, still wearing his label, joins them. Off to Chernigov
- away to the orphanage they go .
The road is long and full of pot holes. Passed villages, peasents at the roadside selling spotty
apples or potatoes in a rusty bucket, and a small item worth pennies. Little grows in the polluted
earth - the effects of he radiation are evident. All water is polluted so only bottled water is used
by us visitors. The driver knows the road well to the orphanage. He slows as he turns into the
rusty wrought iron gate, passed the grass areas of metal climbing frames, old and dirty now.
It's like a place that time forgot.
The building 250 years old has seen better times. Windoww frames crumbling, glass long gone,
broken steps up to the big doors. Inside the familiar musty smell of age and neglect is evident.
Small children are everywhere, about 400 orphans live in this place. Parents or relatives gone,
affected by the radiation. We quietly walk thriugh old dark corridors, paint peeling, over
damaged floors to the kitchens reminiscent of a Dickins' classic. Big ovens cook bread and
there are steaming tin pots full of soup.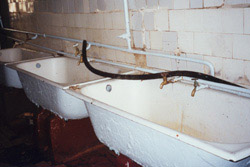 The makeshift sinks
Mr Bumble himself is a smiling square shaped man
named Alexander. Wearing an ill fitting suit but with a warm handshake he ushers us from
room to room pointing out the hand knitted blankets on the beds. These were brought over
on the last trip by our team and add a splash of colour in a drab world and,
I think lookstrangely out of place here.
The racks of shoes with gaping soles line the walls. We took 600 pairs of shoes this trip
so at least they will have dry feet this winter when the snow arrives in October.
The temperature may dip to 20¹ below as it did on our last trip last Christmas.
So how can I choose just one child to receive this speacial bear. I wonder a I watch them -
it must be someone who will love him. So, it must be done I know, but I have come to feel so
close to my little furry companion on our long journey. As I hand him over I wonder will she
understand the sadness he has seen all those miles away in Soham.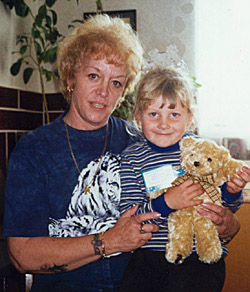 Enya with HOPE BEAR

But then I try to remember the sadness she herself has probably seen in her short life.
It does not bear thinking about. So, I let go of Hope Bear for the last timeand place him
into her hands. Her eyes are bright and she smiles at me. She loves this little bear as
much as I, a spoilt stupid western woman with so much - but, I think we share a
common bond in our loveas I kiss her cheek.
We drive away as darkness falls, flickering lights in the distance and I am gratefull for the
darkness to hide my tears taht are dripping from my chin.
Suddenly, old William who is 82 years old, one of our team this trip sings out a song
"Keep right on to the end of the road" - "join in the chorus Violet' he says - and of course, I do
---
Chernigov 2000
It is difficult for me to write these articles because I always have tears in my eyes by the end of them,
but I know it is the only way I can relieve my feelings of uselessness, the empty feelings of longing to
help a desperate situation. So bear with me now as we go together into the dark stories of our trip to
Chernigov, the town we visited injury 2000. The Ukraine.
It began when we left the airport at Kiev, we walked across to the old Volkswagon ambulance
followed by a young woman shabbily dressed in old bedroom slippers, a shawl around her
shoulders, aged 20, a child of about nine months old feeding from her breast and her hand
outstretched begging these well-heeled English ladies for a few pennies to feed herself and
her struggling infant. We climbed aboard the ambulance, three ill matched grannies from Essex .
One a partner named Jill, one an antique shop owner , Meg, one half Romany dog breeder , me.
The bumpy dusty road to Chernigov, past fields of scorched wilting scraps of vegetables,
reluctant to grow in the parched unhealthy soil , left from the radiation fall out of the 1980's of
CHERNOBLE EXPLOSION . Peasants, bent double in the scorching sunshine scrap out a
meager existence, pears or a few onions hoping a car will stop and a few pennies change
hands. But few are traveling, a scars are beyond the dreams of these people of the UKRAINE.
As we near the town of Chernegov, in the distance central to the main road set on a hill stands
the white painted church with its golden rounded rooftop . This is 'St. Katherine's' built centuries ago,
the pride and joy of Chernigov. It is amazingly un-crowded as we drive through the streets. There
are gapping egret holes in the un-repaired roads. The blokes of gray flats, so fusty , look unkempt
and almost derelict. The few people walking are quiet, resigned to their unexciting lives each day
like the last, not really mush to be joyful about when a town has been forgotten by all of the outside
world. The gray spread's to the clothes they wear. the colour of heir skin and even their eyes are gray
Turning off the main road up a side street we see the railings of the "center". At last the clinic and
the place of hope built from a pile of rubble by the band of volunteers in the UK, whose money and
time has produced a tiny scratch on the surface of this baked crust of closure by the rest of the world.
its name REVIVAL.
The outside is pink and usually clean and tidy in appearance. The steps up to the entrance are
almost uplifting - a place of hope. Inside there is the smell of cooking, onions, vegetable's of fish
soup. As lunch is a very important part of the therapy for the children who visit this center every day,
they come, they walk, sometimes miles, mothers, fathers, grandparents, always holding a child who
is sick and desperate and brought to the doctor here "Dr. P" (his name shortened for us as it is difficult
to pronounce) He is responsible for thousands of these children and his life is ruled by their sadness.
He is married to Dr Natasha, she travels between this center and others of Chernigov all with the
same purpose, the children's sickness. Every single child born in this town is born with defects
of the radiation fallout when the reactor disaster happened in CHERNOBLE in the 1980's The parents,
who at the time were severly affected, most of them do not survive. The soldiers who went to dig
out the victims are now gone. Those who sired the children have left a legacy of cancer, heart disease,
bone deformation , blindness, deafness, but most of all with immune systems which are so impaired
the babies born are not able to survive in this world now.
Horror stories emerged over the next few days of girls giving birth hidden away in these flats to hide
their shame, deformed or terribly sick babies being thrown over balconies. Two cases happened
during my eight-day visit (statistics, 5 girls to 1 man). So the "center" was created and financed by
a handful of English people who visited Chernigov and decided to take aid from our well-filled
supplies here. In a van across on the ferry , then driven for four days to Russia. Every chair, table,
carpet and curtains went across. They carried medicine, instruments and even bath taps,
you name it, they carried it.
Slowly the pile of rubble grew into a place of hope. The news of this miracle spread wide - and
more children came. One old mother carried her son who could not walk at all. He was as big
as she was so she carried him on her back to get the treatment to ease his pain. The massage
room with its tables and warm hands are sometimes all that can be given as medicine is in
such short supply as each case must be limited.
Now wheelchairs were needed, dentist equipment, but mainly pain killers, so much suffering,
where do we begin?
The children are so silent - their eyes are dark and hollow, they have no tears we heard no cries,
just reluctant acceptance. My hands shook as I touched their hair and my eyes were stinging from
my silent tears at night. Sleep seemed to elude me and my mind raced in turmoil at the sights
I tried to register. Dr P works tirelessly. This year he had pneumonia and illness twice. The drain
on his mind and body is unbelievable, he has a small band o doctors and nurses, a team who
work with his direction. He lives from one visit to the next waiting for the vans to come out from
the UK. His lifeline connection through his fax machine lists all the things he needs and knows

only a few are possible. We do as much as we can.
We stayed just a week in Chernigov. I took rolls of film to bring home with me, reminders
of the faces, the people and the places I visited. I need no photographs, the pictures are
forever in my head, but most of all now, those people are inside my heart and yes I will go back soon.