Vanya
Our Vanya soon after her arrival from Ireland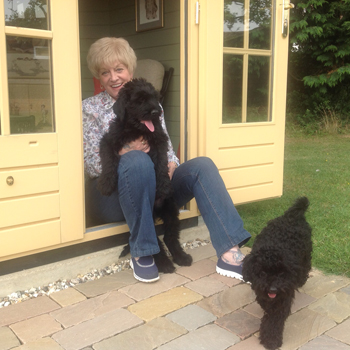 And here she is at 6 months winning best puppy
with Doug Bedford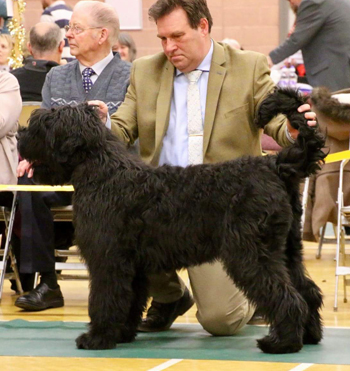 and at 18 months she is a wonderful example of what an RBT should be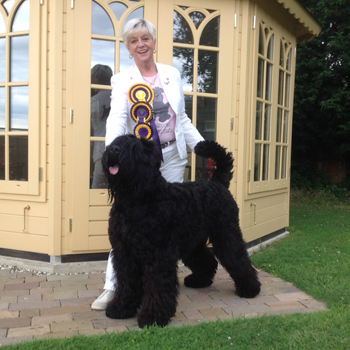 Georgia
Our Georgia is begining to establish herself within the show ring
here she is in the garden at 6 months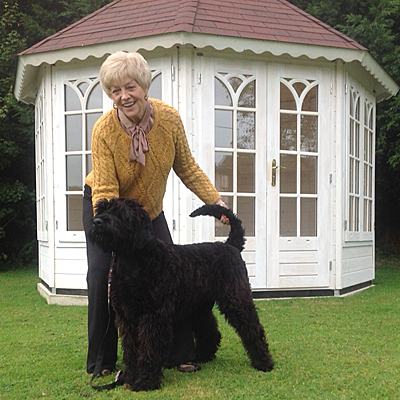 And here she is at just 7 months, displaying the size and strong bone structure associated with
Potterspride Russian Black Terriers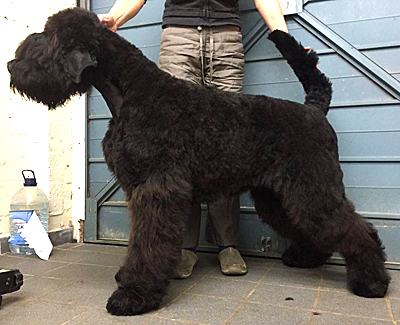 Annushka
Another beautiful puppy bitch from Potterspride. Great temprement and wonderful
build, she will be another great ambassador in the show ring in the future
Gardenia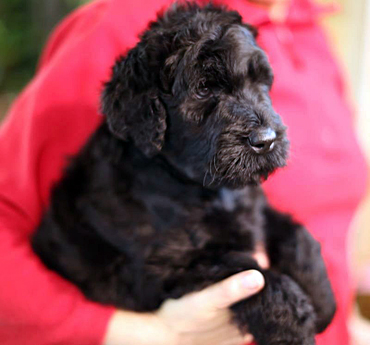 October 2014, it's time for potterspride to once again, lead the way in Russian black terriers.
The show ring dogs and bitches have sadly lost size and quality.
We decided to import new healthy strong pups direct from Russia.
The leaders in quality. The country of origin. looking to the future.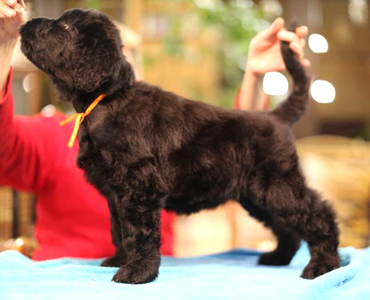 So far, our young male Neron Kontaktas of potterspride has blazed away in the championship shows
throughout 2014. Winning his way to be top puppy, and he is still less than 1 year old.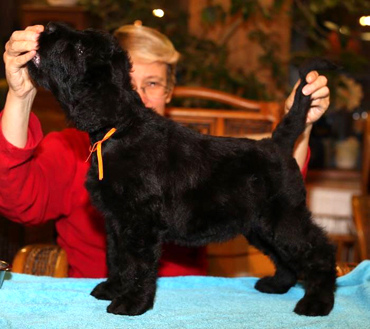 Now we bring our gorgeous new bitch puppy 'Gardenia'
Watch this space, the future is bright... The future is potterspride!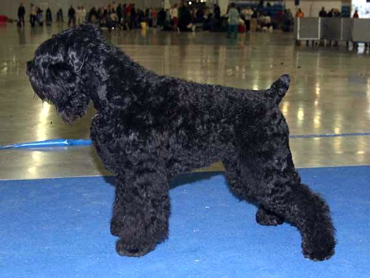 Gardenia's Mum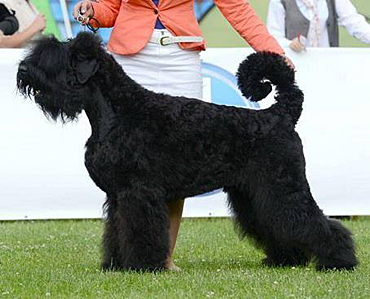 Gardenia's Dad
Macmillian Coffee Morning
Most people know about the biggest coffee morning
In the U.K. for Macmillan nurses, the most worthwhile cause.
It was held on 27th September last Friday.
Ours was held in the cobbled yard, behind the family run butchers in
The old market town of Dunmow in Essex.
We visit every week for our fresh dog meat, so no surprise
We were invited to take our Russian black terrier Sasha, to go.
He wore his stroke me K9 jacket, it was so busy when we arrived.
The ladies made lots of cakes, and buns, a tombola stalls old tickets.
A vegetable stall home grown, was selling all sorts,.
The atmosphere was great, a chap turned up and sang old songs,
Everyone joined in. Sasha was kissed and cuddled ,stroked ,
He was treated to home made cookies, the butcher gave him
Minced beef in small rolls. We raised £1'925. Then Barclays Bank
Came down and gave £1'750. To join our takings.
How amazing is that?

Violet. Slade...
MPD Forum in London
The forum arranged by MPD. Voice was organized in London at St Thomas' Hospital. Westminster.
Myelodysplasia Syndrome is a problem with the blood. I have been diagnosed for 2 years now,
so I was invited to go along and give a talk, to explain how life changes once you are told you have
a problem illness.


I was quite worried having to talk to so many experts on their specialist subject. Bob said
'put a dog in her hand, she'll talk for England,' So after a few calls and enquiries, I was contacted,
and told I could take my Russian black terrier Sasha with me, he has often visited hospital with me
over the years, But this was a first for St Thomas's; we drove into London past Big Ben,
the Houses of Parliament, headed across the river then into the car park.
The meeting was to be in the great meeting room in the old building, a beautiful wood paneled room,
chandeliered lighting. The platform one end had a screen set up. Sasha walked all round to check it out;
we put his padded mat by my chair, we introduced ourselves; I met Clare my professor the
foremost authority on my problem. Amazingly she was so approachable really lovely,
all the staff of MPD Voice the only support magazine for this illness had organized this event,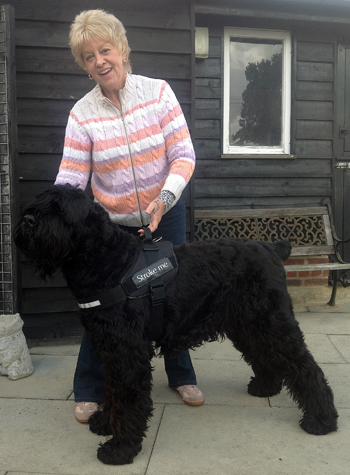 Every one settled, introductions made, then I was asked to speak.
It was quite nerve racking, but as usual Sasha was the star of the show,
he sat looking out at his audience with quite an interest as I spoke about, dog shows, Breeding dogs,
getting tired, getting hot, the days I'm good, the days I'm bad, but I'm determined to continue my life.
At the end we took a bow Sasha stole the show as always - no Change there then.
His adoring fans surrounded us, I couldn't do it without him, and I think he knows.
The drug trial I have been accepted onto is limited to 100 people in the U.K.
I've just started, it's called MAJIC. Lets hope it works. Watch this space.

Violet
I'm going to visit the Queen 2013
by Violet Slade.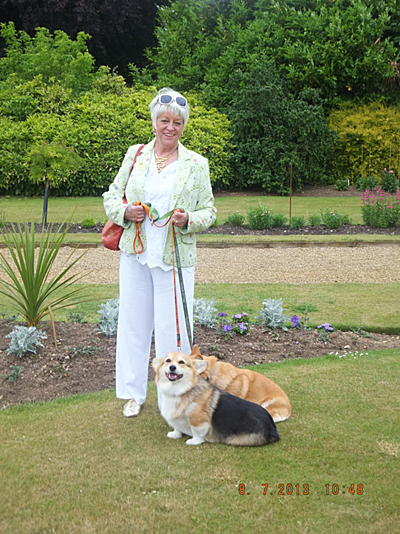 It had been the hottest weekend so far this year at Peterborough, East of England Ch show
weekend the dogs sweltered in the hot sunshine.

So on the Monday the 8th July for our visit to Sandringham, Norfolk country retreat of The Royal Family
we decided to journey early to avoid the problem of our three Corgis having an uncomfortable trip.
The car packed with silver sun sheets and bottles of water, we set off. The roads were clear so we made good time.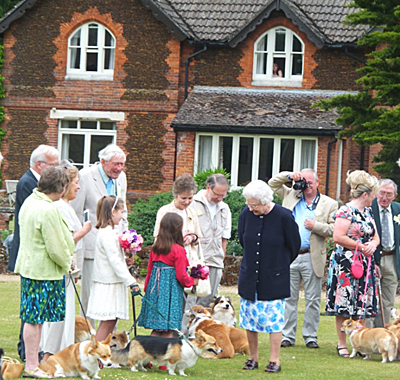 On arrival we saw the white signs directing us to the Private car parking area of the Saw Mill which is adjacent
to the Private walled gardens of Sandringham Estate. Bob Wood was at the entrance directing the parking-about
60 guests arrived and it was quite a sight as ladies with floaty dresses all colours, and the gents changed into smart
casual jackets with shirt and matching ties. The dogs all clean and groomed, best collars and leads between
40 and 50 corgis in attendance.

We walked together through the old walk way, surrounded by mature Rhododendron bushes and shrubs, the cobbles
underfoot pathways well trod all open into the most beautifully kept lawned areas with colourful flower beds.
Although overcast, it was pleasantly warm as we mingled and chatted together, catching up with each other.
The dogs were quiet and so well behaved as if realising the importance of the occasion!!

At 12 o'clock midday HRH The Queen Elizabeth arrived in a Green Range Rover which she drove herself-dressed
in Blue three quarter length died woollen jacket of navy over a colourful blue and white print summer dress,
sensible brown flat walking shoes.

It was so beautiful to see her casual and relaxed without a hat, her lovely pure white hair uncovered. She beamed her
smile the whole time and we could sense how happy she was to see so many Corgis gathered together in one place.
We had been asked NOT to approach or offer a hand shake. She walked towards us and was directed and escorted by
Lady Bridges, introduced to our Chairperson Mrs. Maureen Millar and some of the committee members of the East Anglian
Sub Section of the Welsh Corgi League.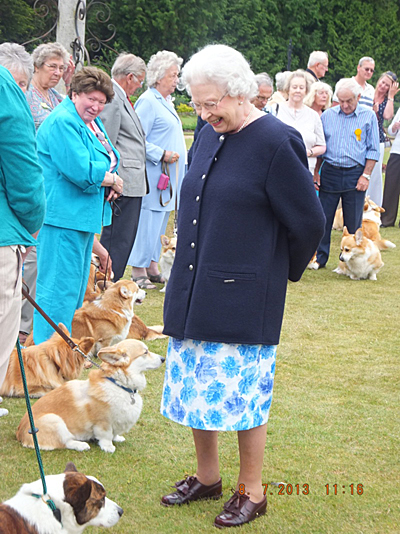 Then she walked casually amongst the assembly chatting and smiling asking 'how old is he? Not so many tri colours,
whats her name? Etc etc . She mentioned the excellent temperament of those present and not to forget these feisty little
dogs were meant to work, good hardy cattle dogs who so needed to be docked, in the olden days, as with the working
Spaniels she had used gone by. Tails were not required for retrieving or shooting dogs she said to me!! It was too much
for her to keep her hands linked behind her back and she couldn't help herself, had to stroke and pat many of those
dogs whose pleading eyes asked, this amazing lady to touch them, an honour!!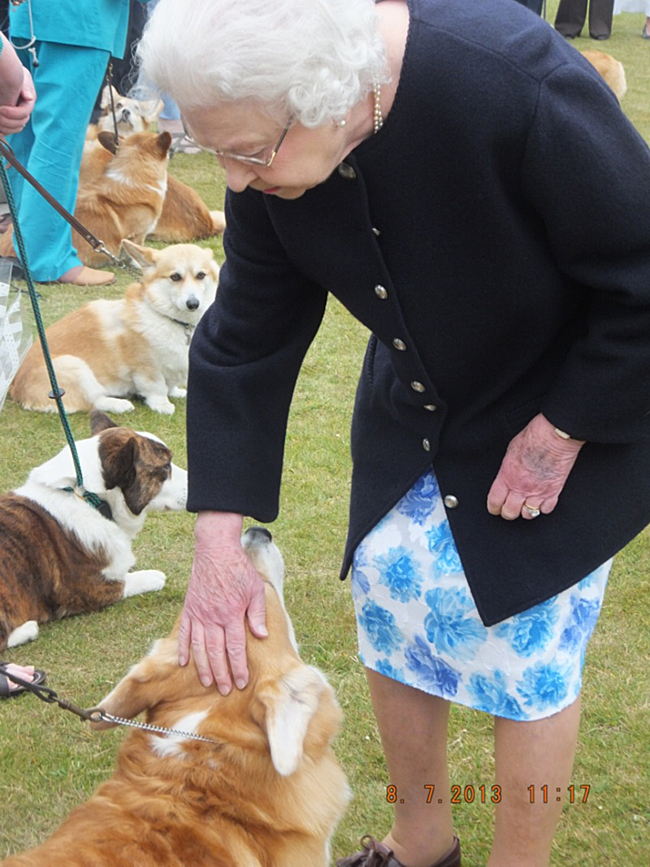 Camera's snapped, many shot's were taken, memories then lady Bridges stepped forward to present a glass bowl
etched with Corgis all around the rim, some of the children presented beautiful coloured posies and flowers.

A group photograph was taken, those able persons kneeled in front (not so many of these)
We stood there amazed at this lovely lady so gentle, so uncomplicated and relaxed, close as we are to her in our
love of animals (especially dogs) she asked what we all had planned for the rest of the day, off to the Visitors centre,
a welcome cup of tea and a Cromer crab lunch. She turned to wave and said Goodbye.
Then she stepped into her Range Rover and slowly drove herself away.
A perfect end to a perfect day with Our amazing HRH Queen Elizabeth.

This is Rooni
Potterspride Rough Love
at the Northern Bernese Mountain Dog Championship Show
he won 1st prize again!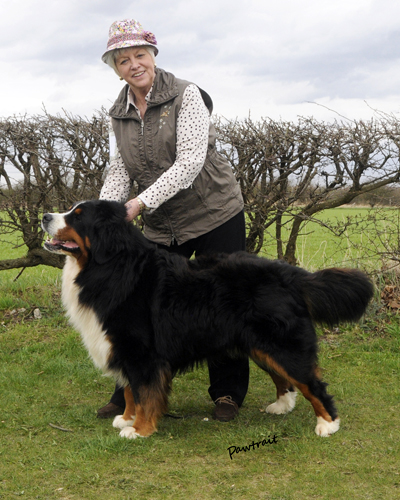 At Birmingham Ch Show in Stafford on Sunday 19th of May
Dolly also won a 1st in Limit Bitch
Then Arri won a 3rd in Limit Dog
It was a cold rainy day and very wet under foot,
but we had a great day and the dogs loved it
Crufts 10.3.2013
Left home at 4 am in a blizzard with Arri Rooni and our Dolly the Bernese
The judging started at 8.30. Judge Jack Bispham. I managed to handle my own dogs!
Our 'Rooni' was placed 5th in the special yearling class (14 entered)
'Arri' was 1st in Mid Limit Dog (11 entered)
'Dolly' was 3rd in Mid Limit Bitch (10 entered)
This is our Arri who won first place
The whole day was wonderful, many visitors came to see the dogs
I wore pink to be cancer aware, home late, happy but exhausted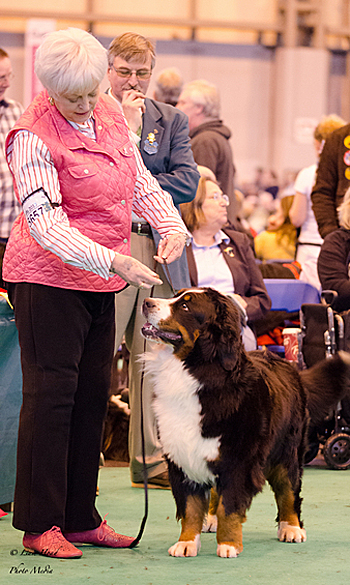 This is our beautiful Dolly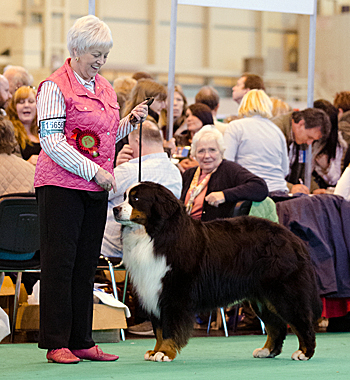 This is our Rooni who is now 2 years old
Lets Talk about Living with Cancer
by Violet Slade
I expect quite a few people in the Dog World at Shows have noticed the differences in my health over the last year.
For fifteen years I travelled back and forth to the Chernobyl area of the Ukraine. At times I took visitors with me to see
first hand the problems they deal with in those areas worst affected by Radiation in 1989.
Some times I went to a ghost town just 17 miles from the exclusion zone. We took photos and wrote reports.
But I often came home sick. My teeth were the first signs of a big problem, as abscess came in my gums and my immune
system began to break down big time. Lots of medication and antibiotics followed and in 2012 just after Crufts Ch Show
I was diagnosed, after blood tests, to have 1st stage Leukemia. So no more trips to visit my orphan children at Chernigov Clinics
The shock, at first is always denial, and for weeks I did not believe it was true. But as I visited the Oncology Unit at Addenbrooks, Cambridge,
my own symptoms became more obvious. I have Chemotherapy to take every day, which comes in big capsules. I also have
blood thinning tablets and steroids. Every four weeks I get bled at the Unit and must remake it, ladies have 8 pints of blood
and I have given 8 pints, so you might say, I feel empty inside.
A friend who sadly lost her mum to Cancer visited me in September. She told me about a book you can get from Amazon Books called
The Ph Miracle,Diet for Health, written by Dr Robert O Young and Shelley Redford Young, his wife. She sent it to me by post,
so I read it and decided to give it a try. It involves lots of Green Vegetables, giving up dairy and prepacked food.
We can starve Cancer cells. The most important green vegs are broccoli, spinach, greens, all growing seeds, bamboo shoots.
So stir fry is excellent, also soups and baked vegetables are really great and so easy. So we started shopping for all those healthy
options with occasional fish and chicken and fruit juice. I detoxed for a week. Spent a lot of time visiting the plumbing in my house.
Then my body settled down, all was well. In December I went for my blood test, knowing that earlier I had a bad result and needed
to be bled one and a half pints in November. The Doctor came to see me in my cubicle and he was so pleased, my clotting red cells
had at last settled down. No more fear of strokes for me, and my blood readings were excellent. 'Amazing results, no need to bleed me'
he said. I was so pleased as at Christmas I was to have all my children, grand children and two new great grand daughters home for a
family party weekend.
January, I went to Boston Ch Show with my new Utility baby Miniature Schnauzer. I had won the puppy group at Coventry New years day,
so I was very pleased, then on January 22nd I was off to hospital and the results were just as good, if not better than December, again no
need to get bled. The Doctors are delighted with my progress, full of questions. Now I am giving the green diet to my Bernese Mountain Dogs
with their raw chicken and breast of lamb. Their coats are amazing and they are so settled and calm.
We all know Bernese and many other breeds get Cancer and their life span is often cut short. Maybe this new way of feeding could
help them???, dare we hope.
Its not that expensive, and if you get to read the book I hope it will help others the way it is helping me ---------

violet @potterspride.co.uk
www.potterspride.co.uk
Welcome to 2013 at Potterspride
we would like to introduce 'LeRoy bred by a friend, Linda Forsyth
a minature Black Schnauzer puppy. Now 8 months old and called Silversocks Scaramanga at Potterspride
On January 1st we went to Coventry Ladies Kennel Society Show in A V N S C puppy we won 1st.
we went on to win Best Puppy and reserve Best of Breed. With specialist judge Paul Conway. Then we won The Puppy Group
for utility breeds.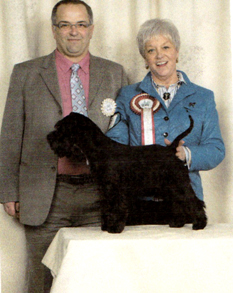 In the working group we won Best of Breed with our Bernese 'Arri' (now 3 years old) Looking mature and handsome
he was Reserve in the working group. Judge Mike Mullen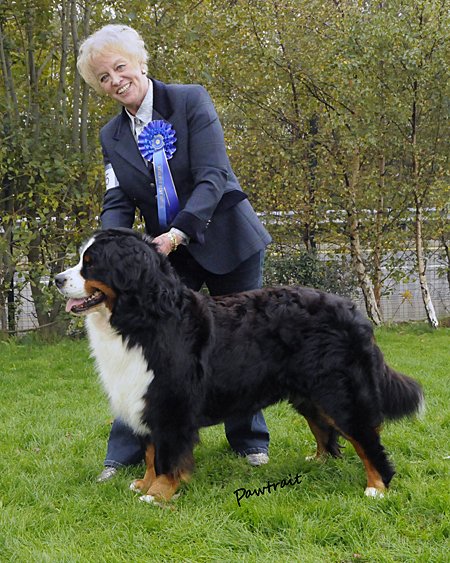 Such a good start to the new year - Top awards in both groups! See you all at Crufts
Christmas at Potterspride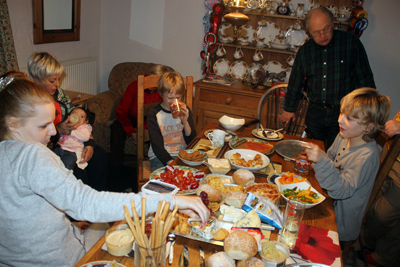 We had a lovely time at christmas this year both my sons came home for a couple of days bringing with them our grandchildren;
Estella, Rio, Reuben and Sam as well as our 2 new great granchildren Ella and Lexi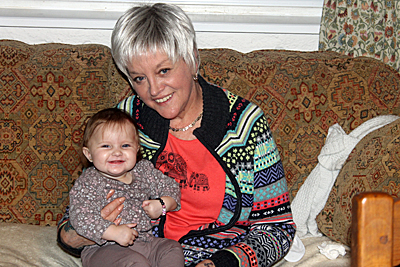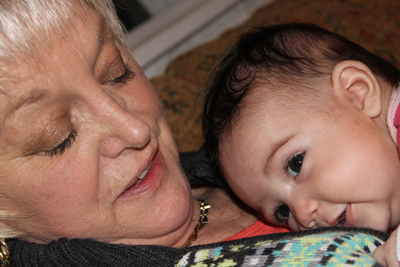 All the dogs had a great time meeting the babies, and the poodles were kept busy being real live teddy bears !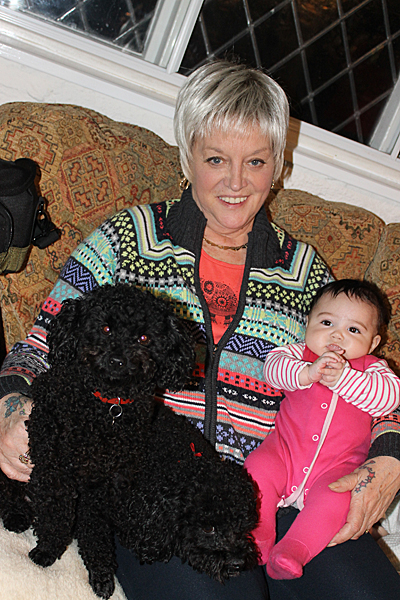 September News 2012
We have had a busy time through September
At The Southern Bernese Show, Rooni won 1st. Junior Dog (Championship Show)
Driffield Championship Show - Roonie 1st - Dolly 1st
Wales Championship Show - Roonie 2nd - Dolly 2nd
So it was a successful month.
Frosty mornings are back with us now and the dogs are looking fit with excellent coats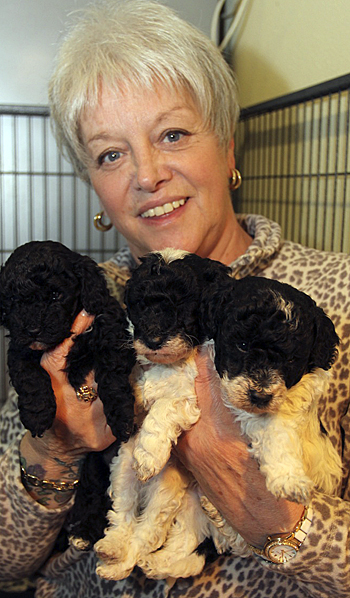 Here we have our new poodle pups (which have now gone to their new homes)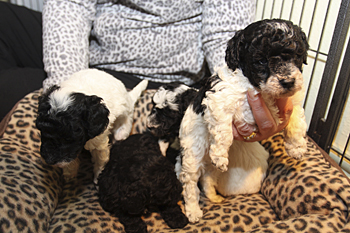 Charlie boy the large boy dog on the right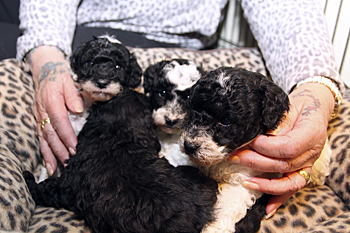 Here's all four of the babies, Fifi, Mimi, La la and Charlie boy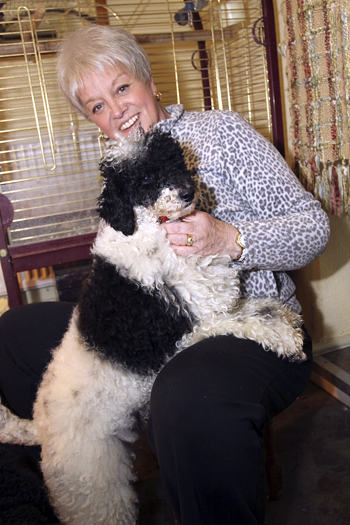 This is Boy Boy the adult dog, Coco's brother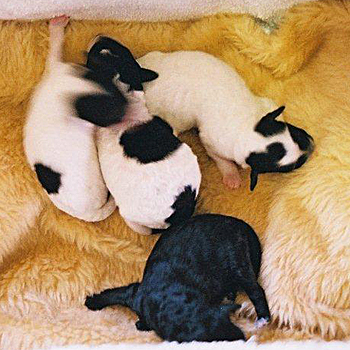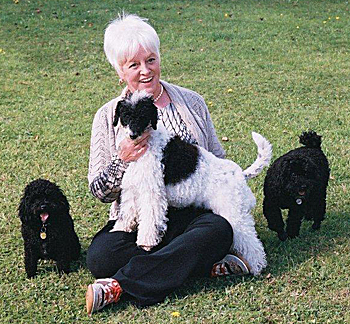 This is Coco's brother his name is 'Boy'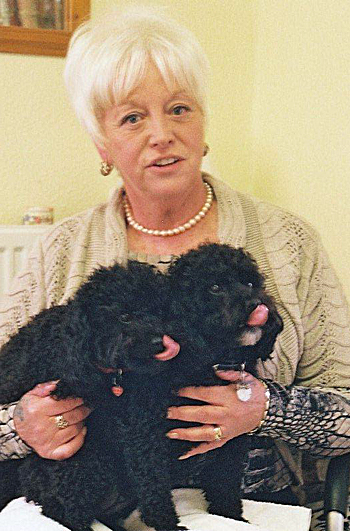 The whole family are excited at the good news
Pepi, Twinkle and Pringle Black Toys.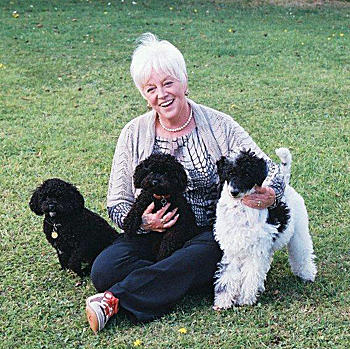 ---
CRUFTS 2012
We had a wonderful Crufts 2012. Our Bernese puppy dog 'Rooni' won Best Puppy Dog.
'Arri' was 2nd in Limit Dog and Dolly our junior bitch was 3rd in her class. We spent Sunday on the 'Discovering dogs' booth.
At the Northern Bernese Mountain Dog Championship Show (Sunday March 25th) Liz Cartkidge was our judge,
our puppy dog Roonie was awarded best puppy in showand Arri who is now 2 years old was awarded 1st in Limit dog.
---
WINTER 2010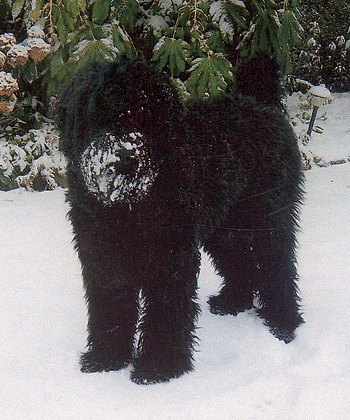 ---
SEPTEMBER 2010
Seen here Anna & Yuri with Bill & Chris Fry in August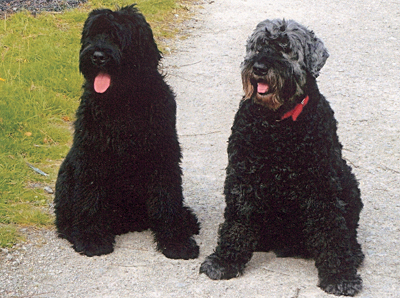 Bernese Mountain Dog Championship Show at Stonleigh
On September the 25th we went to the Stonleigh show, Dogs were Judged by Janet Riseborough,
Monsieur Pascal Hinque was the bitch judge (from France)
Our Dog Puppy 'Arri Verderci ' was eight and a half months old and was awarded Best Puppy in Show
Darlington Ch Show Best Puppy
Wales Ch Show MPD 1st
Bournemouth Ch Show MPD 1st
'Arri' won Best Puppy in Show with 28 pups entered.
He is sired by 'Herbert' and his mother a Champion Jabiem I.N.V.U. this year (bred by June Miles)
---
Boris says hello!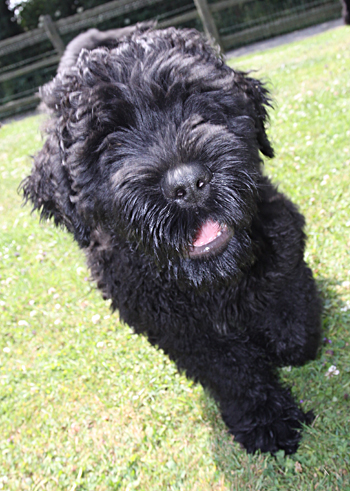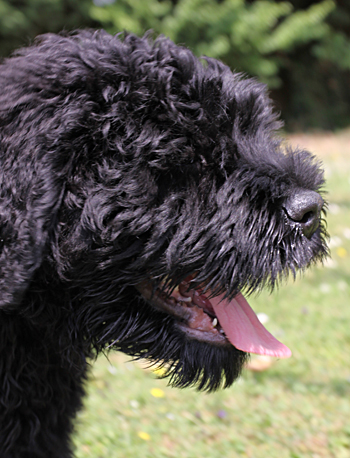 ---
The future is bright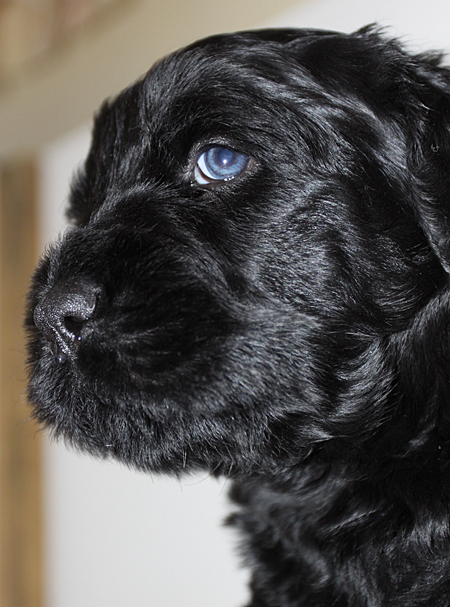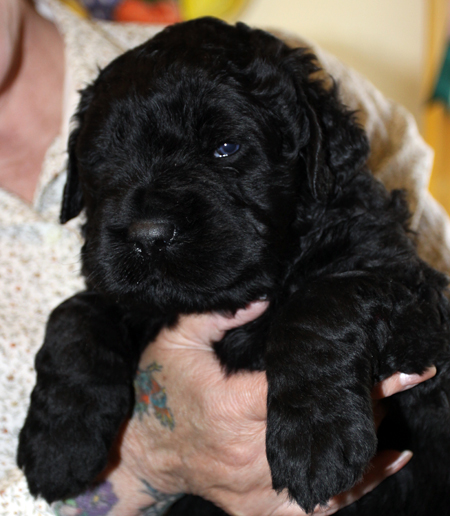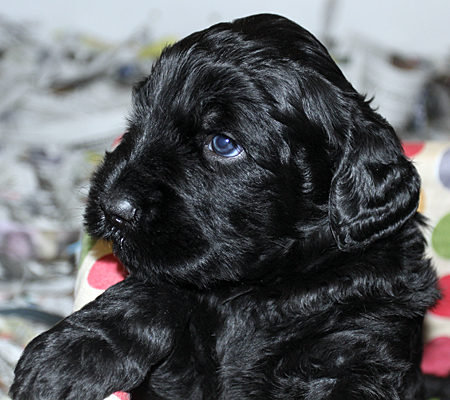 ---
Other members of the family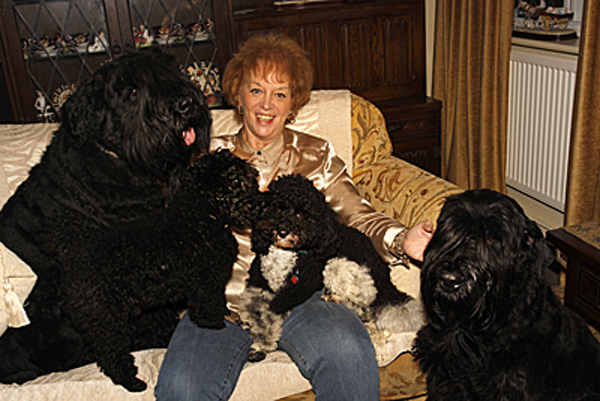 Natasha is now 8 years old our wonderful PAT Dog she regularly visits the cancer unit at Addenbrooks in Cambridge
seen here with Monya (import Russ) Pepe poodle (black) and Spats (black and white)
All our dogs live as a family together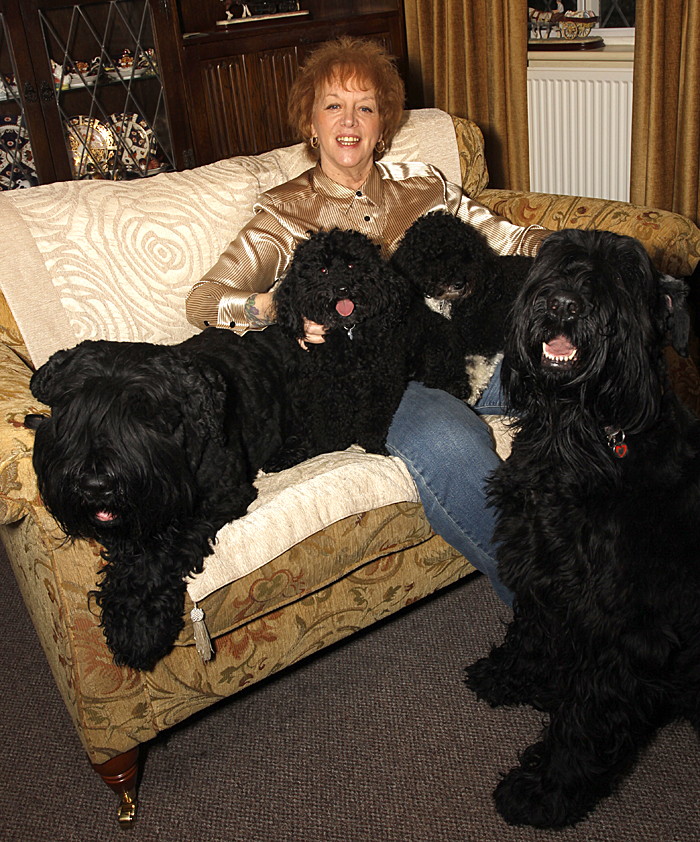 Potterspride Rich n' Black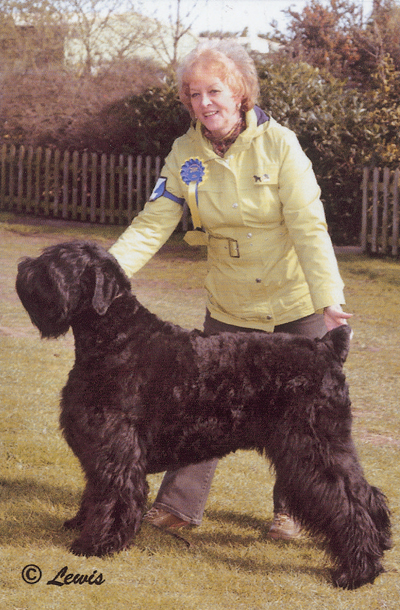 ---
November 2008 News
A Day in the life of a Showgirl
One of the added pleasures of owning The Welsh corgi is to know that you share your
passion for the breed with our Queen Elizabeth II. A lifetime story.
When Gill answered the telephone in November she was delighted to be asked to take
her corgis 'B' and 'Jo', to help at a fashion shoot for a magazine in London.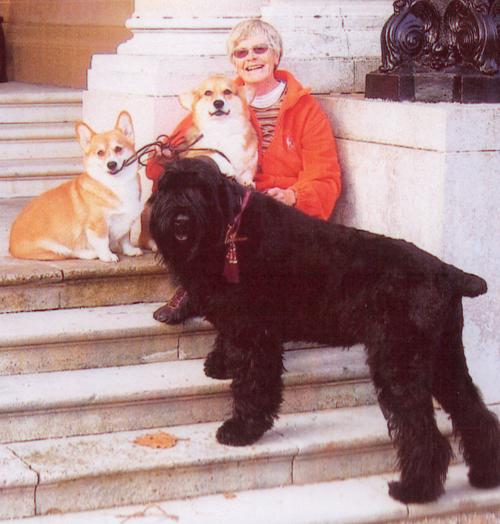 Natasha the P.A.T. Dog (now 7 years old)
seen here with Bi and Jo on the film shoot at windsor at the begining of November
The destination was a fine Estate, a mansion house near to Slough.
The theme for the photos would be the regal look of the aristocracy, based on the
classic beauty of 'Princess Grace of Monaco'. The dogs were to accessorise the fashions,
which are making a comeback at this time.
The beautiful model wore the ageless classic tweed with suede boots. A windswept look,
as she casually walked in the grounds among the autumn colours of the trees.
The corgis gambled along beside her enjoying the fresh sunshine and cooling breezes.
Inside the drawing room as the watery sunlight filtered through the windows - the
relaxing model wore soft pure elegance in a cream two piece with pearls, soft flat
black velvet pumps on her feet. The corgis sat admiringly at her feet, the sable with
white socks of 'B' complimenting the outfit so well
The two sisters behaved obediently like well-schooled girls, as the photos confirmed later.
Such an enjoyable day the latest adventure for posh dogs
'Someone Special' and 'Truely Scrumptious'
Violet has changed her style to 'Mills and Boon'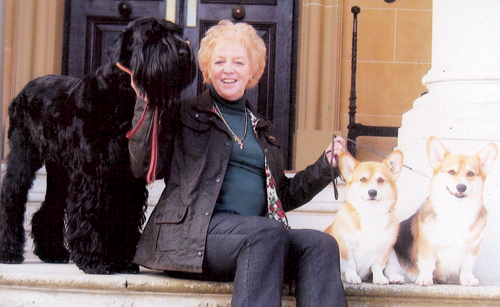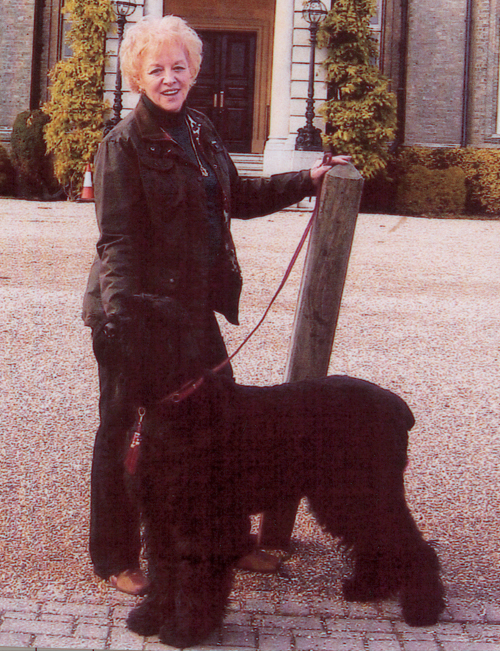 ---
September 2008 News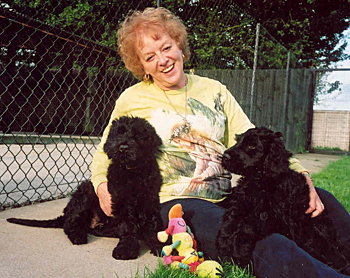 Summer 2008 Natasha pups 'Poison Pedler' and 'Petrovich'
enjoying a drop of sun in the garden.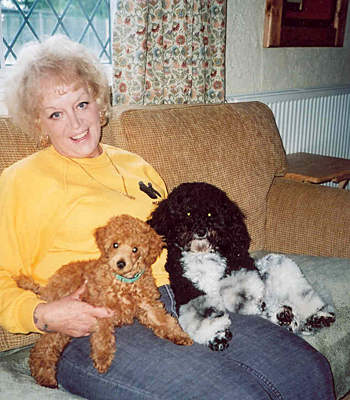 Here is a photo of Spats and Chutney, our new P.A.T dogs in training at potterspride 2008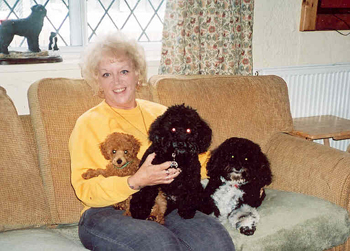 The new P.A.T. team of poodles Chutney (apricot) Pepi (black) and Spats (Black & White)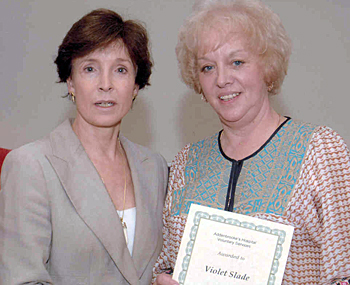 This is me (right) receiving my certificate for P.A.T dog services
to Addenbrookes Hospital Cambridge, the Presentation lunch took place with Dr Mary Archer .
Russian Natasha and Pepi the poodle were sadly not able to attend, so I accepted their long service award for them
Our P.A.T dogs from Potterspride have been visiting children, the stroke unit and all wards for 8 years.
---
August 2008 News
Here is Gill, the dogs and I raising funds for the Hope Bear Foundation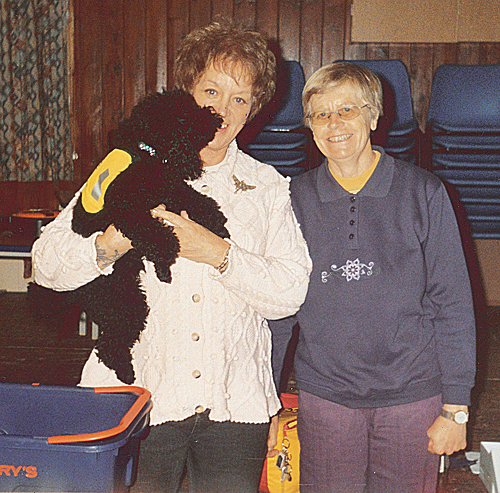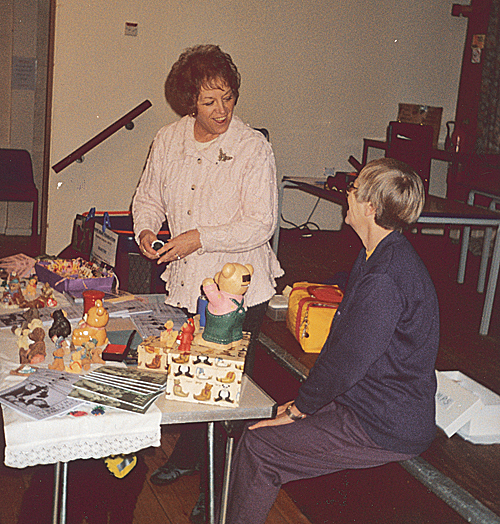 Pepi the black poodle now joins 'Natasha' the 7 year old Russian working hard as a PAT Dog at
Addenbrooks Cancer unit Cambridge. We also help out on the Stroke units and speech therapy Departments.
---
In September I will fly once again to Chernobyl in Russia, to the Children at the hospitals and clinincs
in Chernigov the town close to the Nuclear reator disaster in the 80's.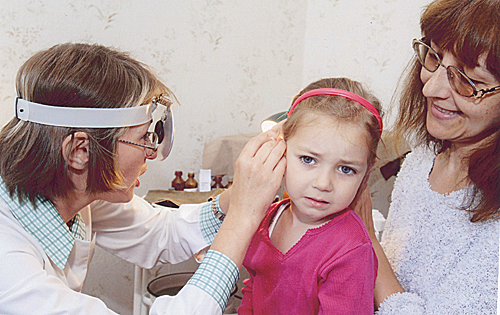 Hundreds of children are still being born with deformaty and hereditry defects.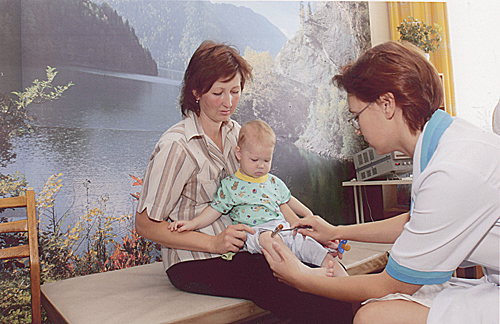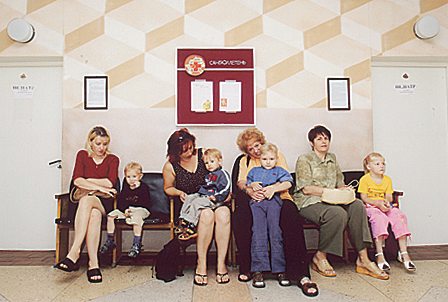 Parents who were close to the area as children in 1986 now hand on the problems.
I am going to take gifts and finance, and sadly, to say 'Goodbye' as this is to be my last trip
We have made quite a difference to their lives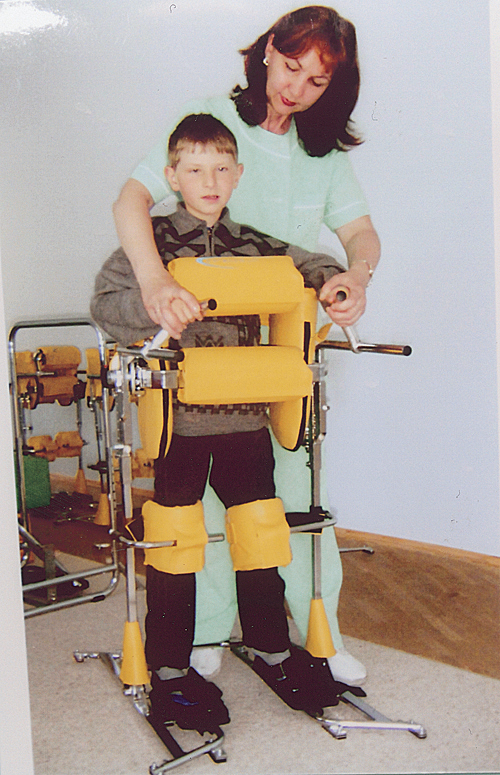 But the trips are becoming more difficult with age.
Bob has to stay at home to take care of all our 'Russians' and of course the poodle!
---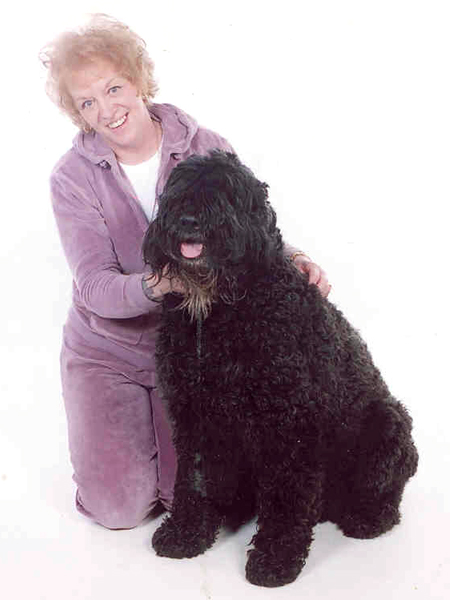 Nina 1997 - 2007
Life is like a box chocolates
You never know which one you are going to get.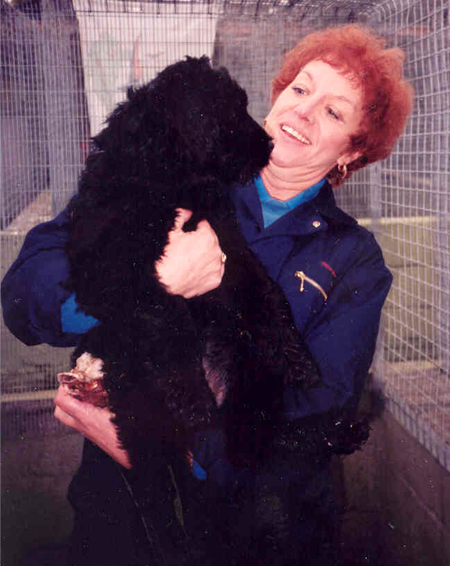 We were so very lucky to own 'Nina'
she came from Moscow in 1997 (a tiny puppy)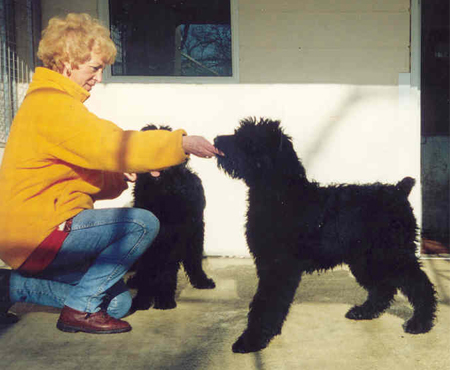 You could say she completely changed our lives for the better.
The first U.K. Russian Black Terrier P.A.T. Dog
She had such amazing patience
Also loyalty, devotion, and complete dediction to owner and family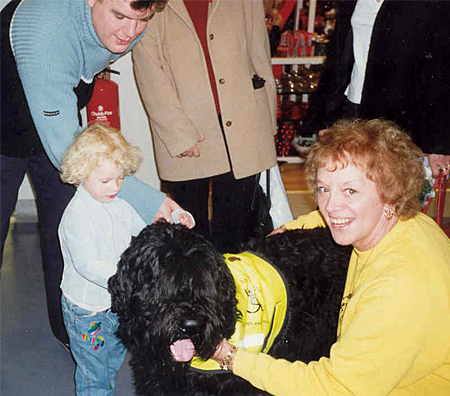 She oversaw every puppy born at Potterspride
She leaves us so many wonderful memories and a whole family of offspring
The foundation of our new Russian breed UK
She is buried with her partner Ludvic, side by side

---
2008 News
'Potterspride' proudly present our latest show dog, "Potterspride Rich 'n' Black" who won best puppy at Manchester following his success at Midland counties championship show.
He is sired by our latest import Fedya, his dam is 'Potterspride Arena' seen here at 8 months old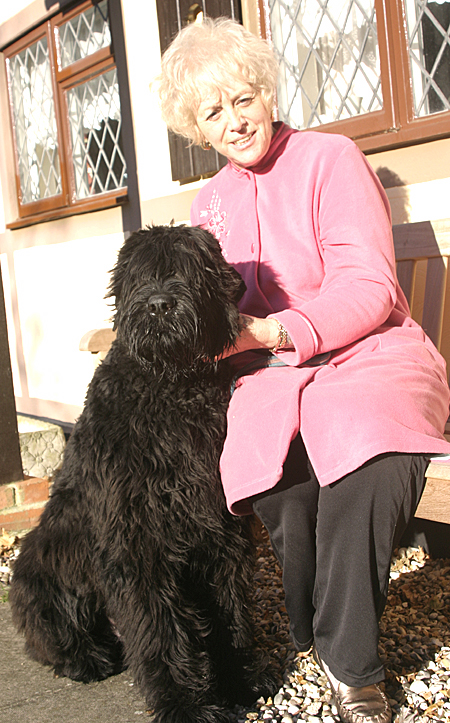 Below is photo of his sire which was taken when he was just released from quarentine aged 12 months old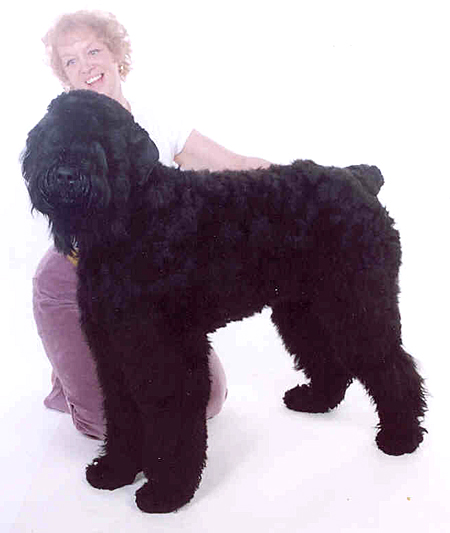 ---
At Midland Counties Championship Show
Our beautiful new Puppy dog Just 6 months old
'Potterpride Rich N Black' was best puppy (a Fedya and Sheba Son)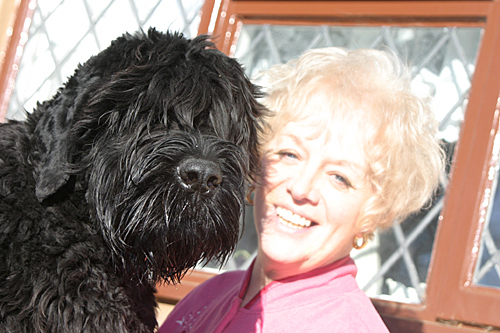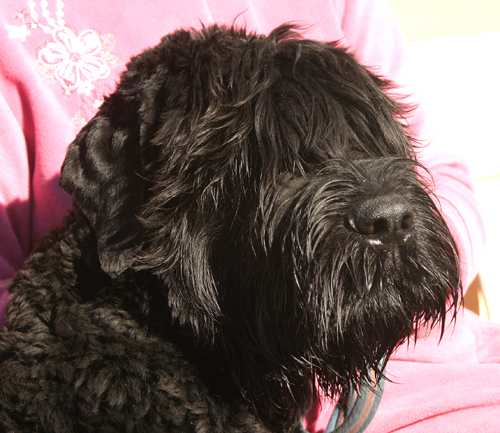 As you can see from these photos he is already showing signs of being a very good size at only 6 months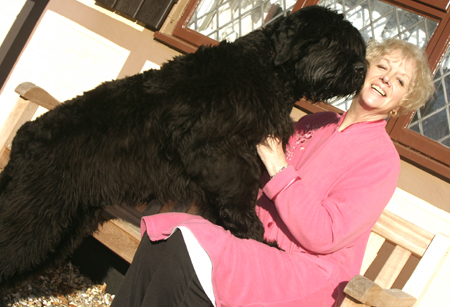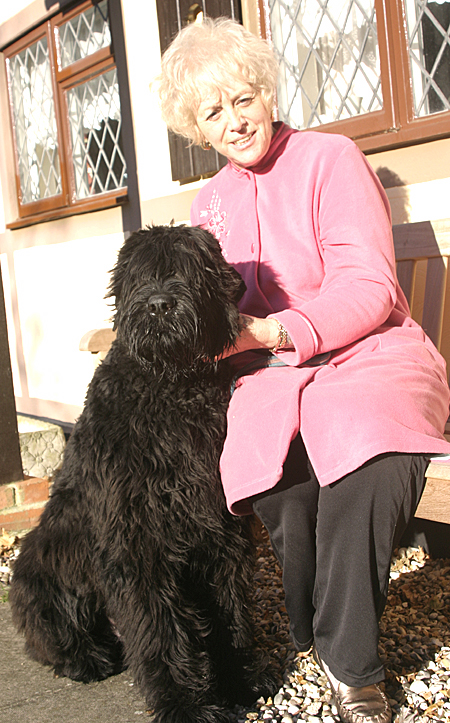 ---
ECHO Qualifies for Search and Rescue
Look how amazingly versitile this breed can be...
One of our original intentions was for the Russian to be used in the English protection forces.
Due to the 'Russians' amazing versitility, robustness and strength, coupled with a steady and pedictable nature
We have recently received several inquirys from dog handlers with-in the Police force, watch this space...
Echo aged 3 years old is now fully qualified, she now works full time for CANTECH with the police force
and is employed for all search and rescue services.

When Chris and Paul Tedder retired from the police force they swapped one uniform for another,
the bright red outfit of the Volunteer Search and Rescue dogs for the UK. Their first love was Newfoundlands
for loyalty and devotion and a keen ability to rescue from water that was until Christine met me with a Russian.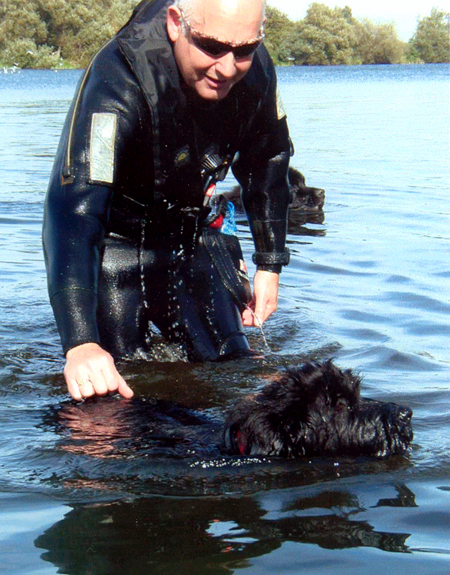 When the time was right they came to see the litter of 11 from Bibi and Kris, at 5 weeks old they puppy tested them
and selected a bitch which we named Echo. Gentle careful training has begun, and on September the 16th a training day
oranised at Weybred, Echo was introduced to water aged 16 weeks.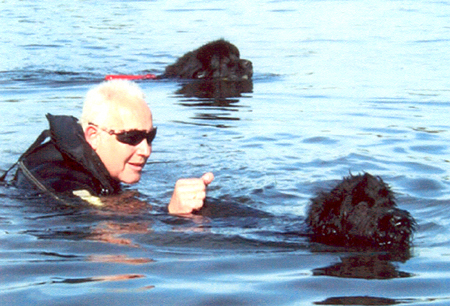 The handler Paul in a wet suit must teach the dog to
tow, as if by natural instinct with her adult Newfy companion near by, she paddled out and fetched Paul back to shore on
her second attempt, much to everyones amazment she is a natural. Echo will continue training to become part of a team
And so another door opens for The Russians from Potterspride
---
This is Gary and Violet, out for the day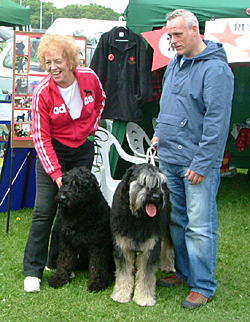 This is a Black and Tan Russian which is sometimes seen in an occasional litter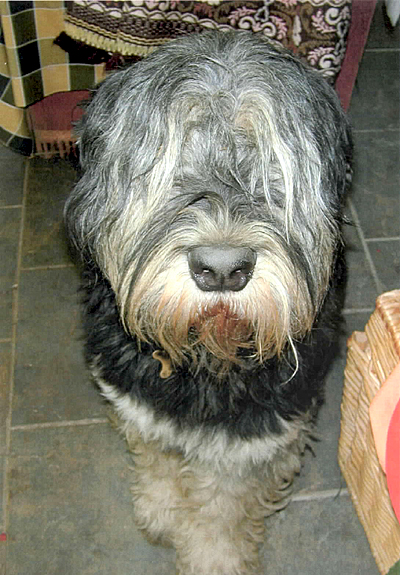 Hi I am Boris, so what if iam a little sun faded?? I am a 3 year old Russian Black Terrier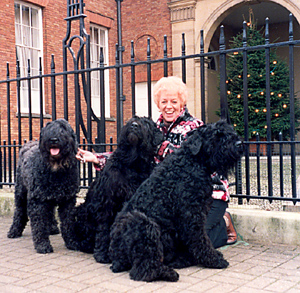 Violet with the ladies at Newmarket
---
May 2007
We have recently addeed a new poodle puppy Parti colour black and white,
named SPATS to our family here he is: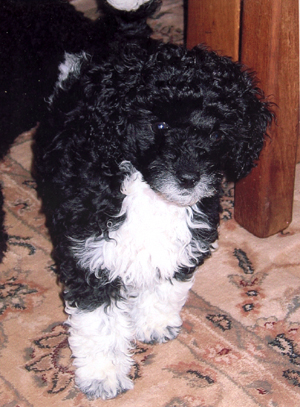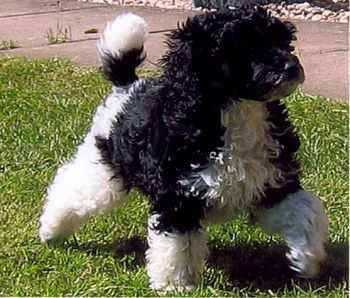 Our pups by Import from Moscow named Fedya Son of World winner KRIS
can be seen below, born spring 07. They're names are 'Potterspride Rich and Black'
and Pottespride Rich and Famous'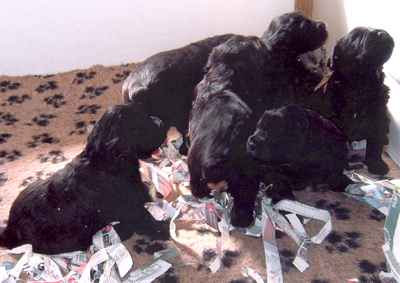 ---
Do Russians Get On With Other Breeds - They Certainly Do!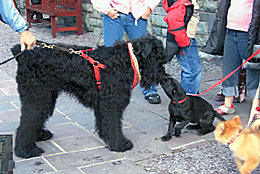 A lovely Day Out at the Dunmow RBTA
---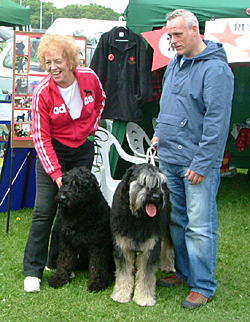 Here is a black and tan dog we bred, he is the mascot of a local rugby team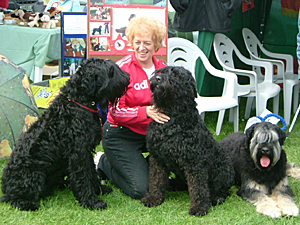 ---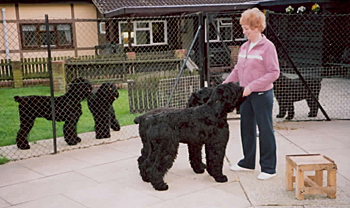 Here are all our dogs at home
---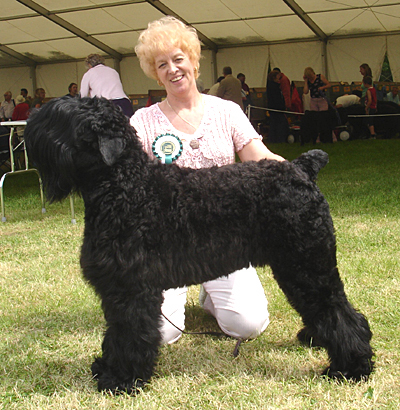 Monya now! see how she has blossomed at potterspride
---
FOR INFORMATION AND FORM TO JOIN THE NEWLY FORMED
R.B.T ASSOCIATION
---
LIFE
A man at the end of his life walked with God on a beach
Two sets of footprints in the sand.
In the sky his past life flashed before his eyes.
But at times of trouble only one set of footprints were there in the sand.
The man asked God, 'why was it when I have had times of trouble, you have forsaken me ?'
God answered, 'In times of trouble my most precious son. I did not forsake you...'
'I CARRIED YOU.'
---
Does the Russian Live with other breeds?
I am asked this question so often.
Here is Sasha the Adult male 'Potterspride The Sleeping Bear' with his latest best friend named
Peggy (the Russel) and again in bed with Lou Lou.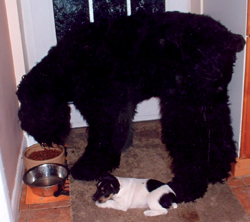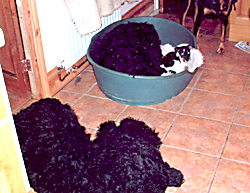 Does this answer the question
(Thanks to Pat Trinnick for the pictures)
---
These amazing pictures are of the very rare Russian Owtscharka (said to be agressive) seen here with their breeders children.
I met on my recent travels. We do not have this large breed in the UK as yet.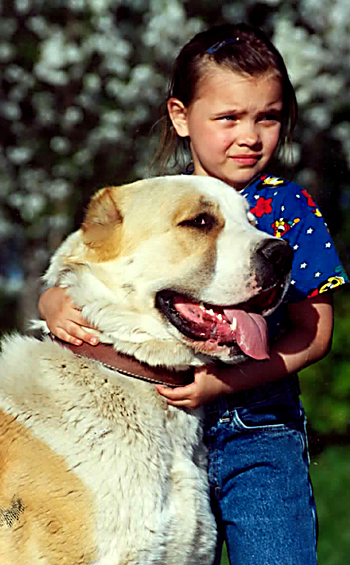 loves and cuddles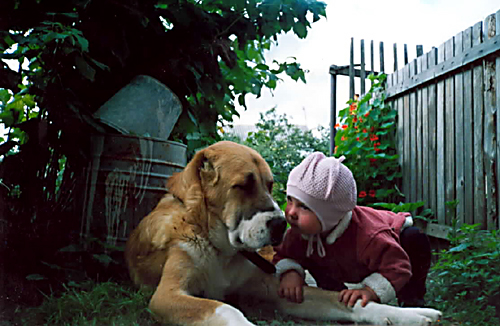 Secret whispers
---
P.A.T. Dogs working (picture gallery)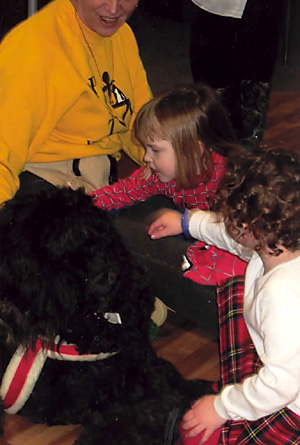 We went to Addenbrookes Childrens Cancer Unit at Cambridge, the children have
Chemo Therapy over a long period mainly for Leukemia,
our PAT Dogs are very welcome.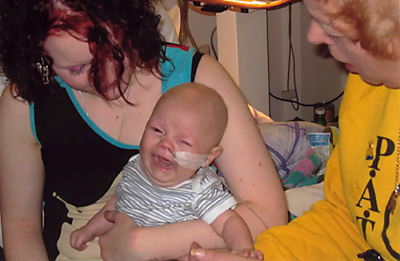 This is ZAK who was very upset when we arrived Zak has Lukemia and is receiving treatment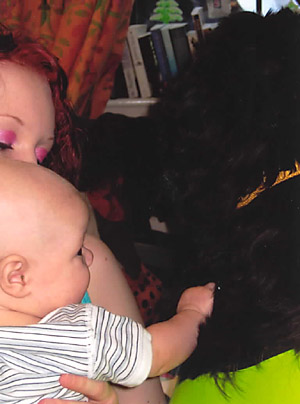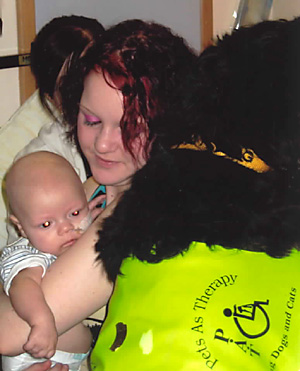 Here is Nina doing what she does best, giving a bit of comfort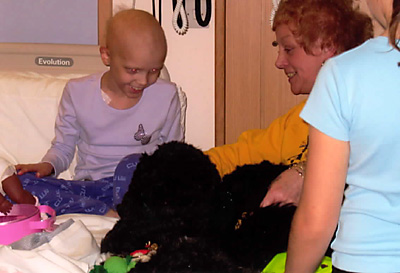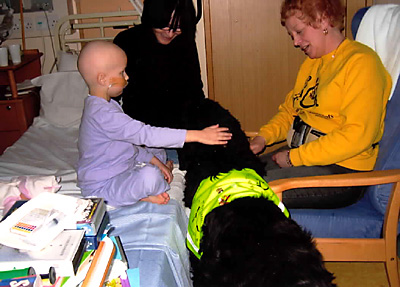 This little girl is a long term patient who was very shy until she met Cleyra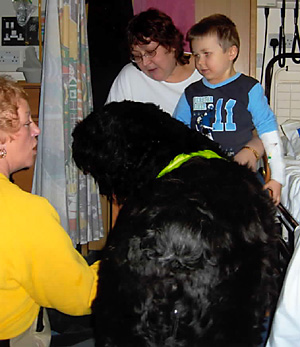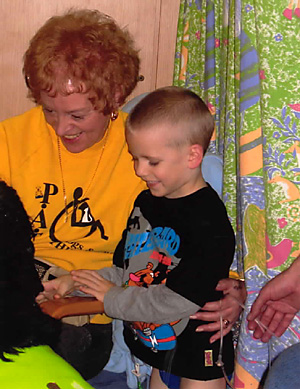 Making friends with long term patients - Cleyra bringing smiles to the wards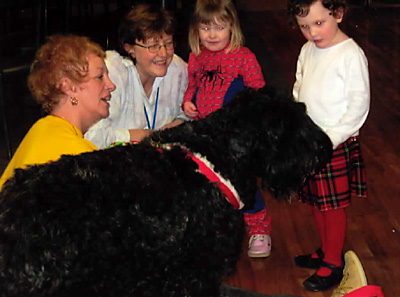 Nina says goodbye until the next time to the children.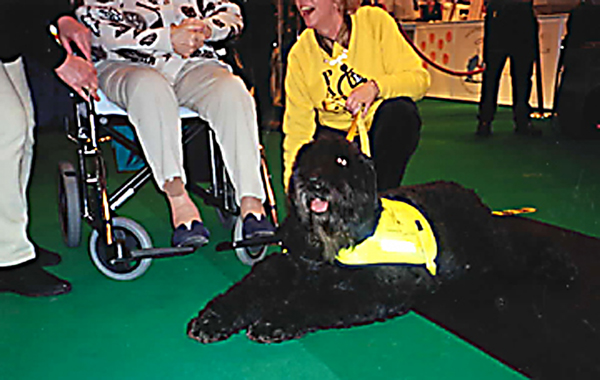 Cleyra making friends at Crufts 2004
---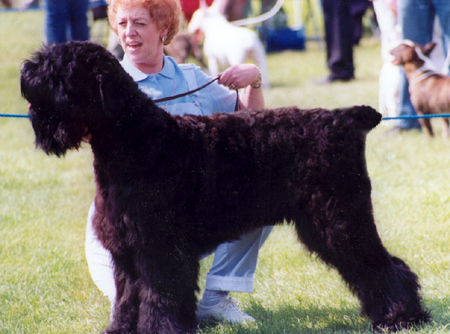 Named after the amazing father Grigory Rasputin

---
MARCH 2004
The Circus came to town March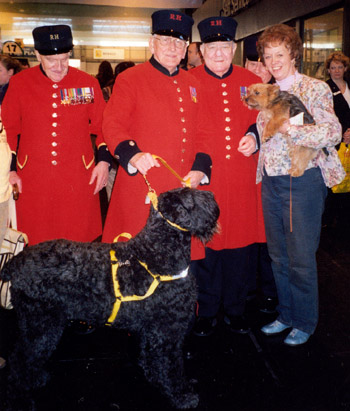 ---
December 2002
On Sunday December the 8th, we were invited to attended the
PRO Dogs of the Year Awards luncheon 2002. Guest of honour
was David Hamilton. So with our two Russian Pat dogs Nina
and Cleyra, Bob, Gill Perry (my son) Sue (his partner) and I went
along in our best Bib & Tuckers to Sandown racecourse to a
beautiful glittery ballroom filled with silver and blue tables set
for a wonderful lunch. Wine on every table donated.
Lovely flower arrangements adourned the room, which
had a large stage at one end.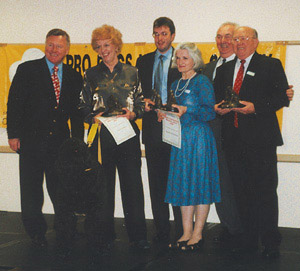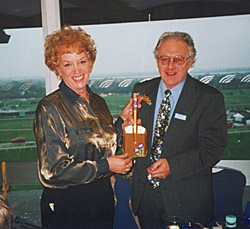 Cheif Executive Mike Findlay welcomed us. Awards were given,
gold and silver medals for bravery and devotion to duty awards
went to 'Rosie' and 'Bobby'. Life saving dogs 'Daphne' and 'Sandy'.
Then 'The Lesley Scott Ordish Award' given by the trustees for
PRO-Dogs for outstanding contribution to the world of dogs
was awarded to 'ME' with our 'Nina'. It was a wonderful surprise
for us so 'Nina' was taken up onto the stage and photographed
(which she loves I may add)
---
BY ROYAL APPOINTMENT
An invitation had arrived, so on Wednesday 17th July, I accompanied my friend Gill,
her mum Betty who is 82 (in a wheelchair) and Corgi Ski to meet HRH ELIZABETH
The Queen at Sandringham. After a wonderful sit down lunch we walked to the
PRIVATE WALLED GARDENS of Sandringham. The Queen was at Bury on a walk-about
so she flew in a helicopter back to see us at sandringham gardens in the warm sunshine.
Her Majesty arrived at 4 o' clock in a green Range Rover. The Queen wearing a light
green dress and coat with a wonderful large beige hat - she looked pretty as a picture.
The Queen walked along the shingle path smiling towards Betty's wheelchair,
stopped and said 'Thank you for coming' Betty blushed. Then - "We have an
interloper - HELLO" -she leaned forward to our "Cleyra" the PAT DOG sitting
quietly by "Ski" The Queen, her Majesty, asked "what is she?
I answered "A rare Russian dog named 'Cleyra', 5 years old and an import
I brought in from abroad" The Queen seemed interested so asked me more
and I told her Cleyra works with elderly people and children, also visits hospitals,
disabled clubs and churches. A working breed in "Russia" used by their military
and I told her about 'Mig,' the police dog we breed and she said 'Most interesting'
and I handed her the book which I had written "With Love from Russia"
which was tied with gold ribbon to the Pink Book about the Children of Chernobyl
and the Queen thanked us and took the book into the car with her with a final wave.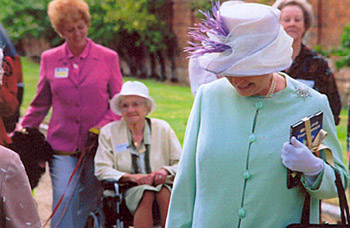 HRH Queen Elizabeth the II holding the book about the Russians with
Violet and Betty in the background.
Job Done a wonderful day full of memories
"Cleyra take a Bow" The first Russian to be patted by
HRH OUR QUEEN ELIZABETH
---