Vanya
Here is vanya at 8 months old, top winning UK puppy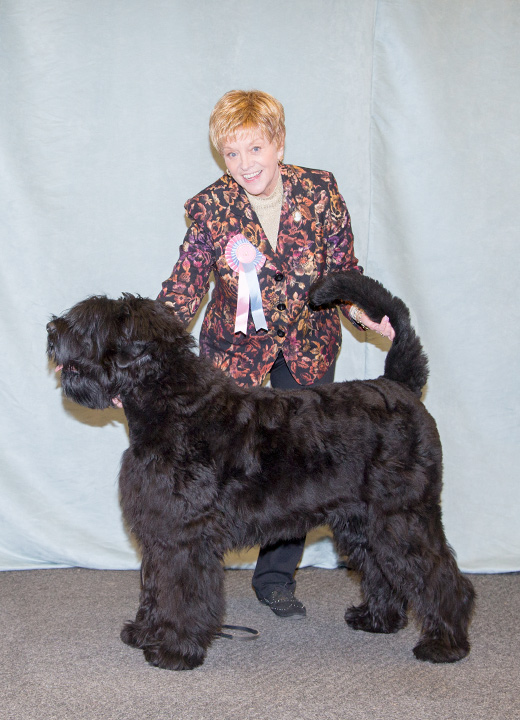 Vanya at two years old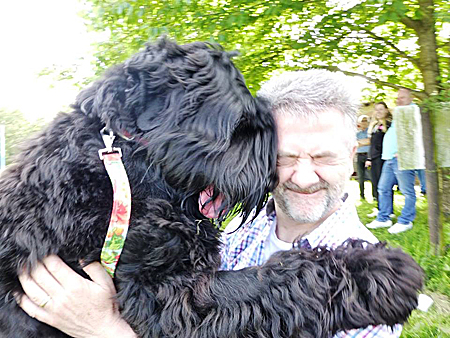 vanya loves to make new friends
Our Vanya soon after her arrival from Ireland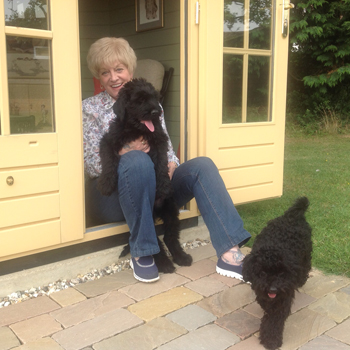 and at 18 months she is a wonderful example of what an RBT should be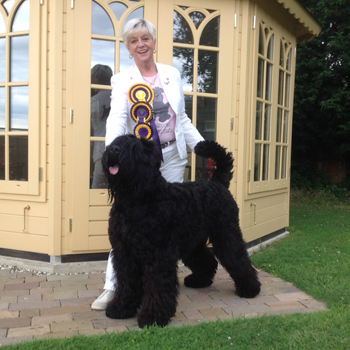 Georgia

Our Georgia is begining to establish herself within the show ring
here she is in the garden at 6 months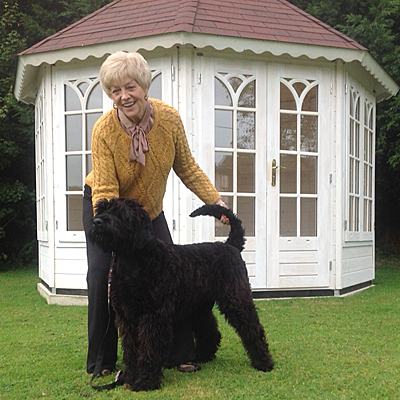 And here she is at just 7 months, displaying the size and strong bone structure associated with
Potterspride Russian Black Terriers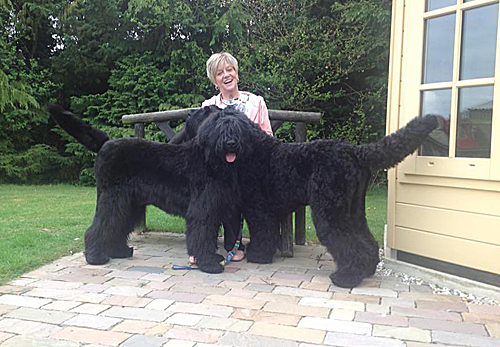 My two girls, Georgia and Vanya at home in the garden.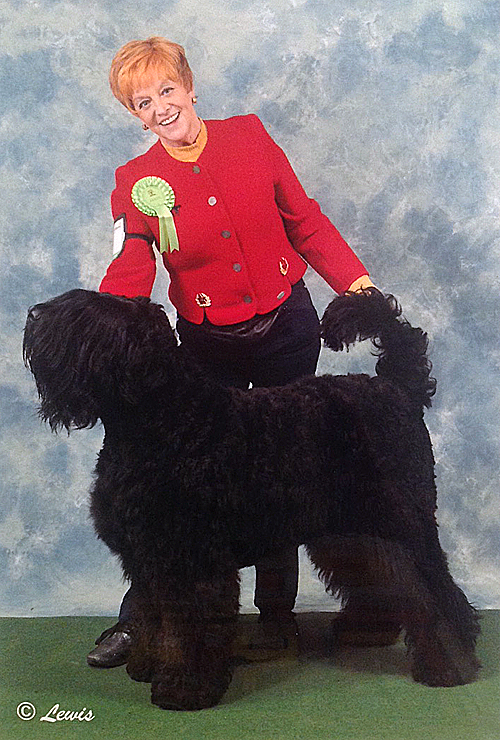 Here is Georgia aged 3 years old, our top winning show bitch
Denzil
Here's Denzil our latest show dog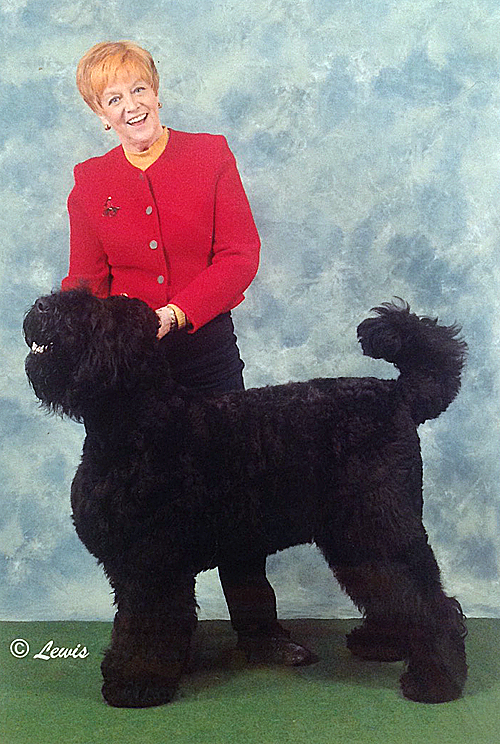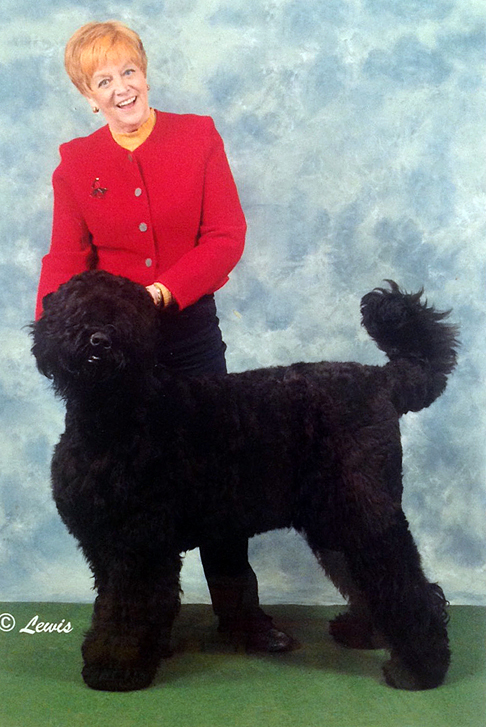 Here is Denzil at 15 month, a top winning puppy in the UK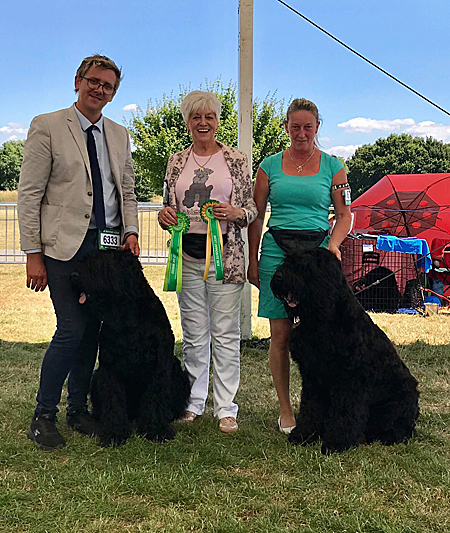 This is Denzil and vanya, doing the double at Peterborough
Championship show 2018. Best Dog and Best Bitch !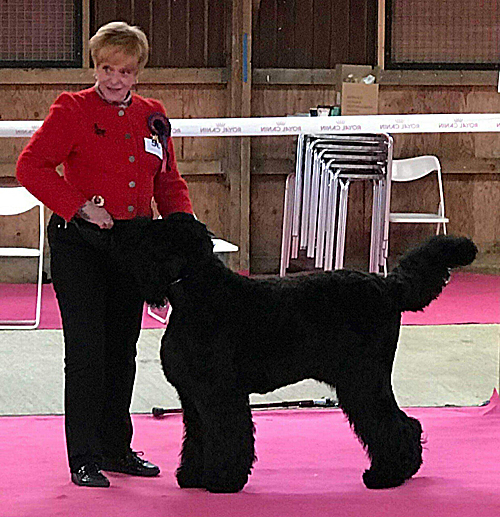 Here's Denzil winning at the Suffolk show . Top working group.
I went to visit the Queen 2013
by Violet Slade.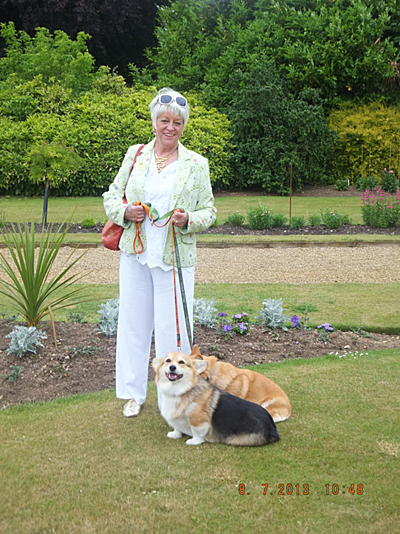 It had been the hottest weekend so far this year at Peterborough, East of England Ch show
weekend the dogs sweltered in the hot sunshine.

So on the Monday the 8th July for our visit to Sandringham, Norfolk country retreat of The Royal Family
we decided to journey early to avoid the problem of our three Corgis having an uncomfortable trip.
The car packed with silver sun sheets and bottles of water, we set off. The roads were clear so we made good time.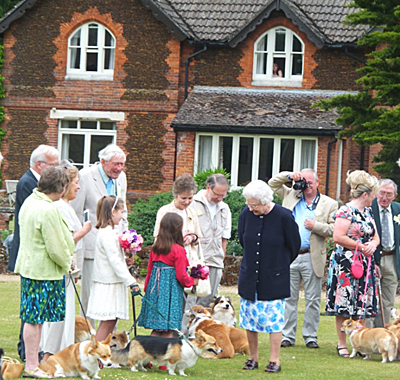 On arrival we saw the white signs directing us to the Private car parking area of the Saw Mill which is adjacent
to the Private walled gardens of Sandringham Estate. Bob Wood was at the entrance directing the parking-about
60 guests arrived and it was quite a sight as ladies with floaty dresses all colours, and the gents changed into smart
casual jackets with shirt and matching ties. The dogs all clean and groomed, best collars and leads between
40 and 50 corgis in attendance.

We walked together through the old walk way, surrounded by mature Rhododendron bushes and shrubs, the cobbles
underfoot pathways well trod all open into the most beautifully kept lawned areas with colourful flower beds.
Although overcast, it was pleasantly warm as we mingled and chatted together, catching up with each other.
The dogs were quiet and so well behaved as if realising the importance of the occasion!!

At 12 o'clock midday HRH The Queen Elizabeth arrived in a Green Range Rover which she drove herself-dressed
in Blue three quarter length died woollen jacket of navy over a colourful blue and white print summer dress,
sensible brown flat walking shoes.

It was so beautiful to see her casual and relaxed without a hat, her lovely pure white hair uncovered. She beamed her
smile the whole time and we could sense how happy she was to see so many Corgis gathered together in one place.
We had been asked NOT to approach or offer a hand shake. She walked towards us and was directed and escorted by
Lady Bridges, introduced to our Chairperson Mrs. Maureen Millar and some of the committee members of the East Anglian
Sub Section of the Welsh Corgi League.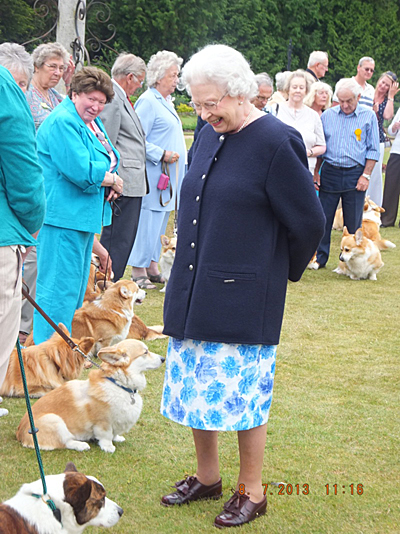 Then she walked casually amongst the assembly chatting and smiling asking 'how old is he? Not so many tri colours,
whats her name? Etc etc . She mentioned the excellent temperament of those present and not to forget these feisty little
dogs were meant to work, good hardy cattle dogs who so needed to be docked, in the olden days, as with the working
Spaniels she had used gone by. Tails were not required for retrieving or shooting dogs she said to me!! It was too much
for her to keep her hands linked behind her back and she couldn't help herself, had to stroke and pat many of those
dogs whose pleading eyes asked, this amazing lady to touch them, an honour!!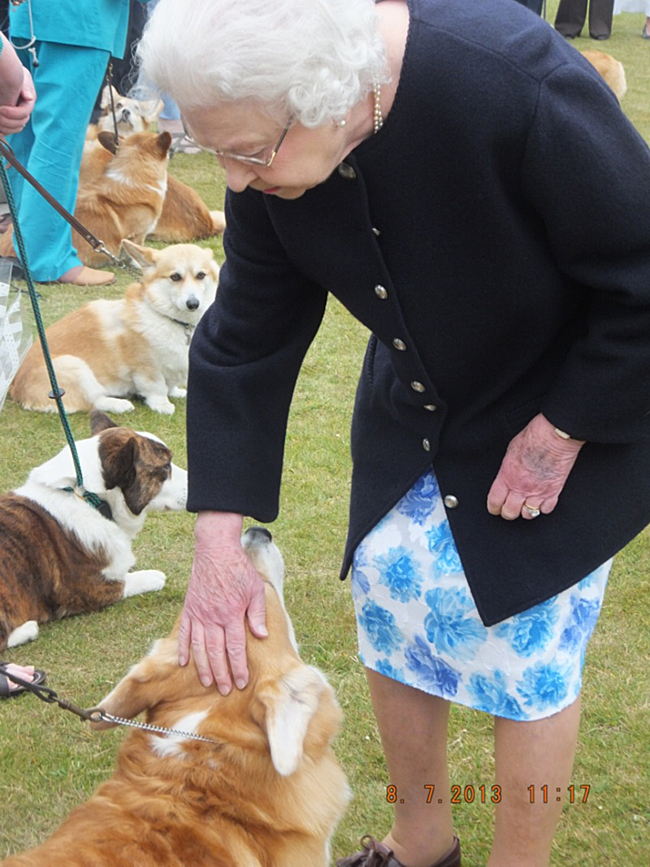 Camera's snapped, many shot's were taken, memories then lady Bridges stepped forward to present a glass bowl
etched with Corgis all around the rim, some of the children presented beautiful coloured posies and flowers.

A group photograph was taken, those able persons kneeled in front (not so many of these)
We stood there amazed at this lovely lady so gentle, so uncomplicated and relaxed, close as we are to her in our
love of animals (especially dogs) she asked what we all had planned for the rest of the day, off to the Visitors centre,
a welcome cup of tea and a Cromer crab lunch. She turned to wave and said Goodbye.
Then she stepped into her Range Rover and slowly drove herself away.
A perfect end to a perfect day with Our amazing HRH Queen Elizabeth.

---
The future is bright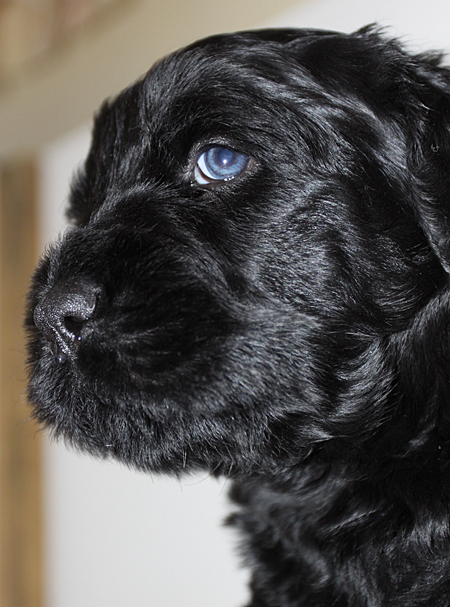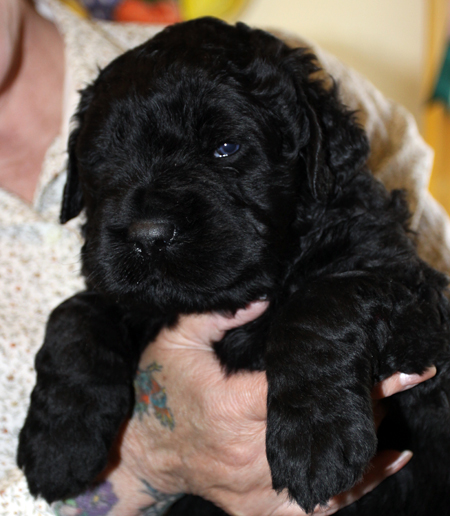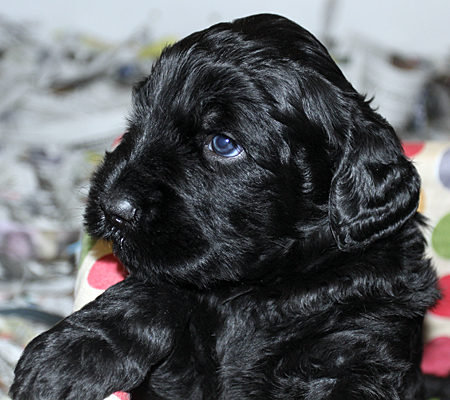 ---
Other members of the family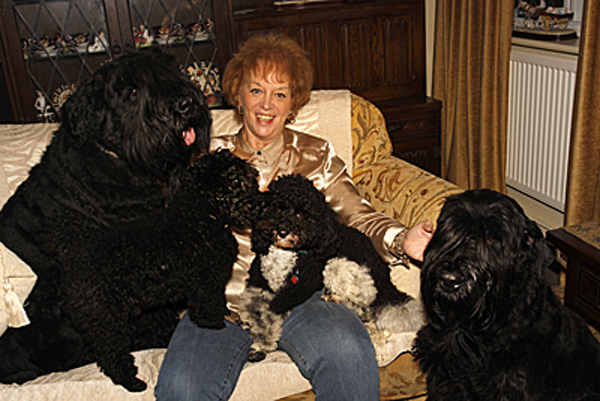 Natasha is now 8 years old our wonderful PAT Dog she regularly visits the cancer unit at Addenbrooks in Cambridge
seen here with Monya (import Russ) Pepe poodle (black) and Spats (black and white)
All our dogs live as a family together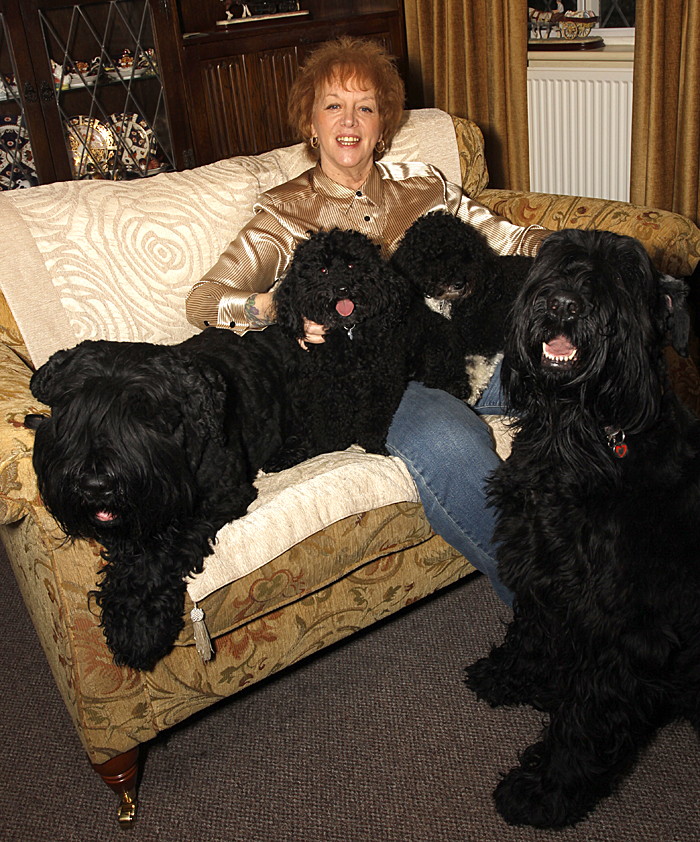 ---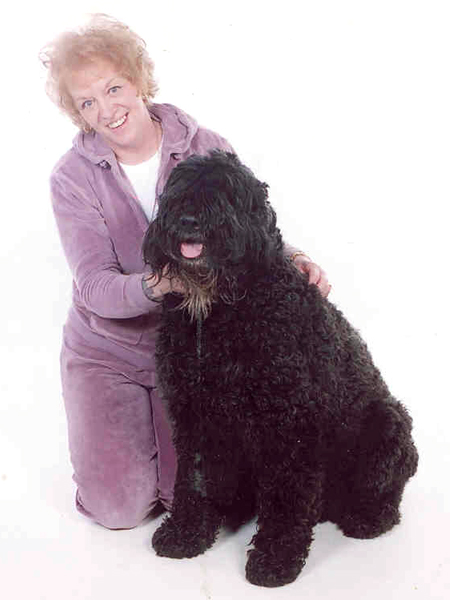 Nina 1997 - 2007
Life is like a box chocolates
You never know which one you are going to get.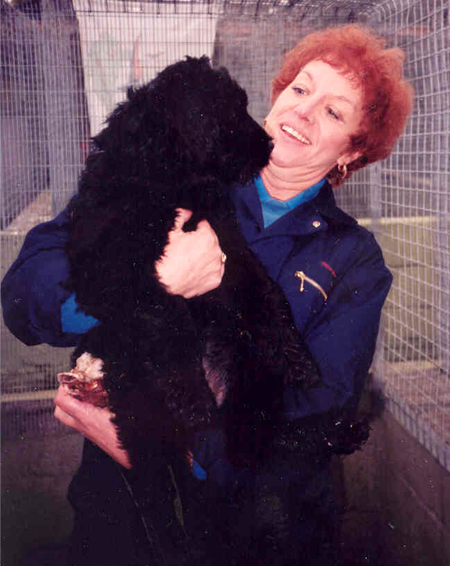 We were so very lucky to own 'Nina'
she came from Moscow in 1997 (a tiny puppy)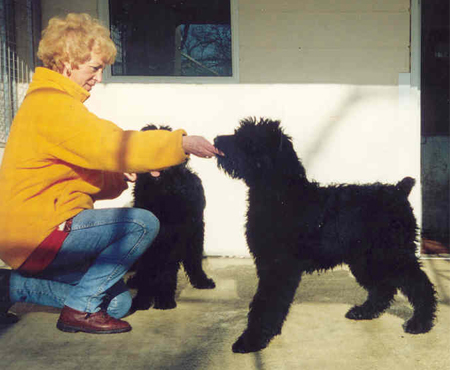 You could say she completely changed our lives for the better.
The first U.K. Russian Black Terrier P.A.T. Dog
She had such amazing patience
Also loyalty, devotion, and complete dediction to owner and family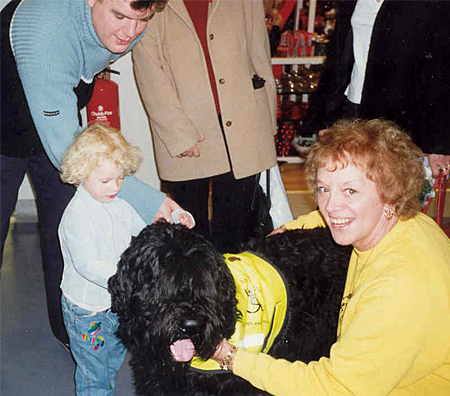 She oversaw every puppy born at Potterspride
She leaves us so many wonderful memories and a whole family of offspring
The foundation of our new Russian breed UK
She is buried with her partner Ludvic, side by side

---
2008 News
'Potterspride' proudly present our latest show dog, "Potterspride Rich 'n' Black" who won best puppy at Manchester following his success at Midland counties championship show.
He is sired by our latest import Fedya, his dam is 'Potterspride Arena' seen here at 8 months old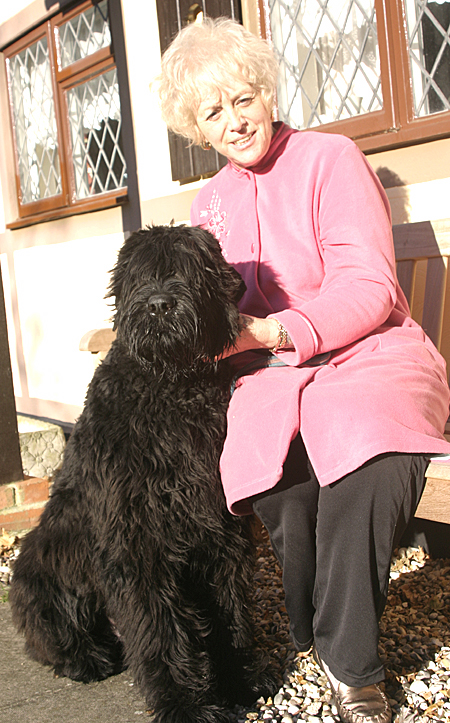 Below is photo of his sire which was taken when he was just released from quarentine aged 12 months old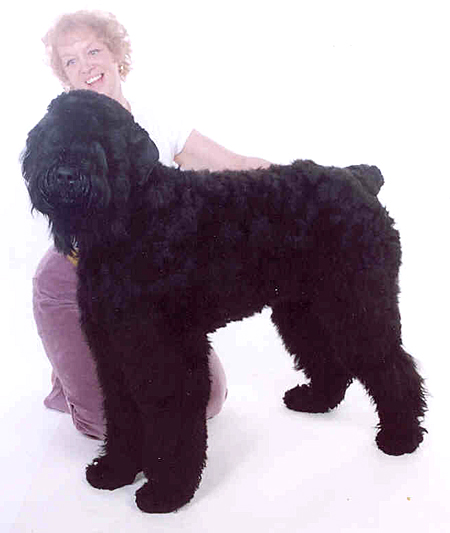 ---
At Midland Counties Championship Show
Our beautiful new Puppy dog Just 6 months old
'Potterpride Rich N Black' was best puppy (a Fedya and Sheba Son)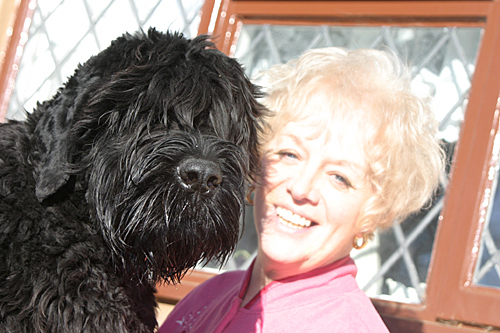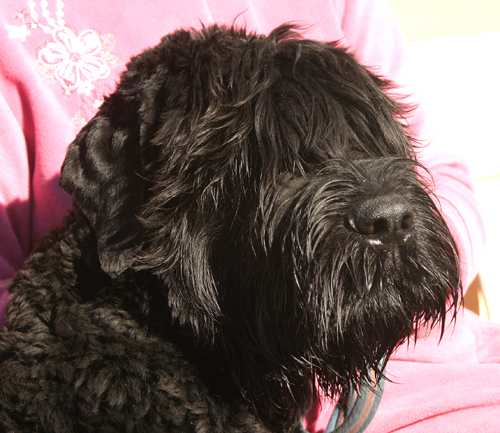 As you can see from these photos he is already showing signs of being a very good size at only 6 months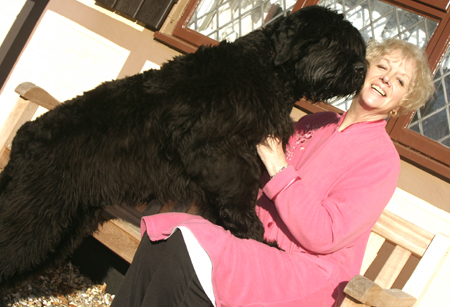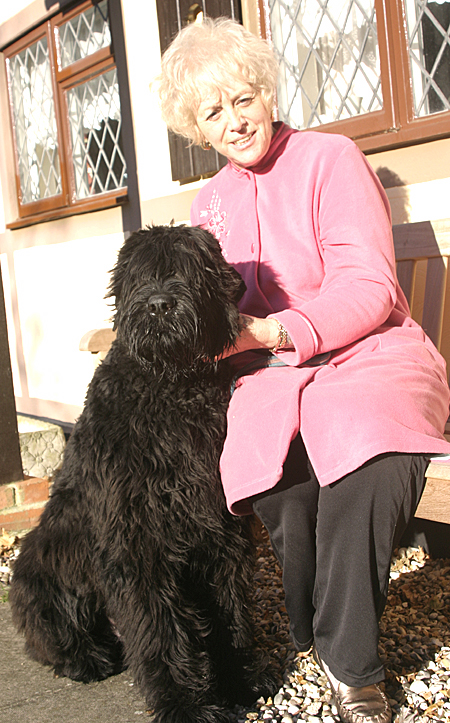 ---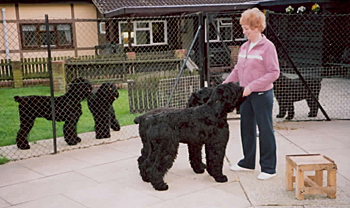 Here are all our dogs at home
---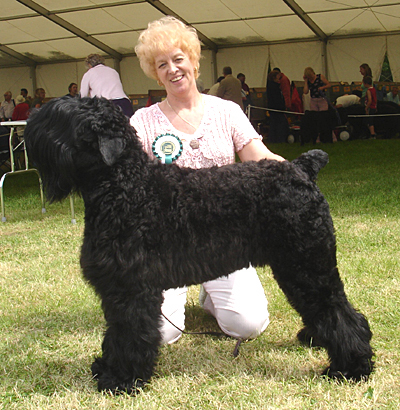 Monya now! see how she has blossomed at potterspride
---
BY ROYAL APPOINTMENT
An invitation had arrived, so on Wednesday 17th July, I accompanied my friend Gill,
her mum Betty who is 82 (in a wheelchair) and Corgi Ski to meet HRH ELIZABETH
The Queen at Sandringham. After a wonderful sit down lunch we walked to the
PRIVATE WALLED GARDENS of Sandringham. The Queen was at Bury on a walk-about
so she flew in a helicopter back to see us at sandringham gardens in the warm sunshine.
Her Majesty arrived at 4 o' clock in a green Range Rover. The Queen wearing a light
green dress and coat with a wonderful large beige hat - she looked pretty as a picture.
The Queen walked along the shingle path smiling towards Betty's wheelchair,
stopped and said 'Thank you for coming' Betty blushed. Then - "We have an
interloper - HELLO" -she leaned forward to our "Cleyra" the PAT DOG sitting
quietly by "Ski" The Queen, her Majesty, asked "what is she?
I answered "A rare Russian dog named 'Cleyra', 5 years old and an import
I brought in from abroad" The Queen seemed interested so asked me more
and I told her Cleyra works with elderly people and children, also visits hospitals,
disabled clubs and churches. A working breed in "Russia" used by their military
and I told her about 'Mig,' the police dog we breed and she said 'Most interesting'
and I handed her the book which I had written "With Love from Russia"
which was tied with gold ribbon to the Pink Book about the Children of Chernobyl
and the Queen thanked us and took the book into the car with her with a final wave.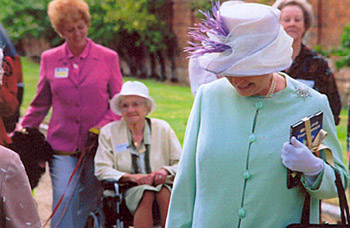 HRH Queen Elizabeth the II holding the book about the Russians with
Violet and Betty in the background.
Job Done a wonderful day full of memories
"Cleyra take a Bow" The first Russian to be patted by
HRH OUR QUEEN ELIZABETH
---