Potterspride History 1970-2005
Rottweilers
Minstrel was our top dog early 80 s
And a top stud dog with 0"0 shoulders and 0"0 hips .
A top champion dog ,with champion pups all over the world .
Seen here at 18 months old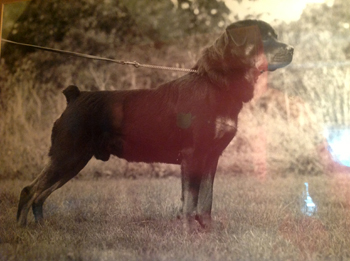 Champion Minstrel 1985

It started in 1970 with our first Rottweiler was
Champion Prince Gerlert of Bhaluk (Cassidy)
His sire was imported direct from Germany,
Champion Bulli Vd Waldacquele.
Cassidy got his junior warrent in 1972


1974 Champion Casses Lass of Potterspride (Cleo) bred from
Cassidy a Junior Warrent winner and Champion bitch (HD Free)
she was to be the foundation of our kennel in the 70's
her temprement was graded excellent

We followed with numerous Champions in the UK and
abroad exporting as far as Australia, Trinidad and the USA

In 1982 we aquired Champion Caprido Minstrel of Potterspride (Ricky)
a junior warrent winner with (0.0) hips. He proved a most influential sire
and produced so many champions and top winners (Too many to mention)
1982 MInstrel was top dog
1986 Champion Rich Bitch of Potterspride (Fallon) a Junior Warrent winner
1987 Champion Aylsham Beauty of Potterspride (Gremlin)
a Junior Warrent winner and Best Of Breed winner at Crufts Dog Show 1987,
these two were the top winning bitches in 1987
1987 Champion Caprido Minstrel of Potterspride Top Stud
1989 Champion Potterspride Pure N' Free (Dexter) top dog 1989 with (0.0 hips)Champion Potterspride Pure Magic (0.0 hips) (Ryan) brother to Dexter
Champion Potterspride Amazing Alice (sired by Dexter)
Champion Potterspride Fatal Force (sired by Dexter)
Champion Potterspride Fancy Man (sired by Dexter)
1999 Our latest champion is Potterspride Tizane (HD free)
from gremlin daughter of Potterspride Poison Pixie.


So our legend lives on into the millenium 2000
| | |
| --- | --- |
| CH. Potterspride. Pure.N.Free (Dexter) 1989-1999 | Dexters son |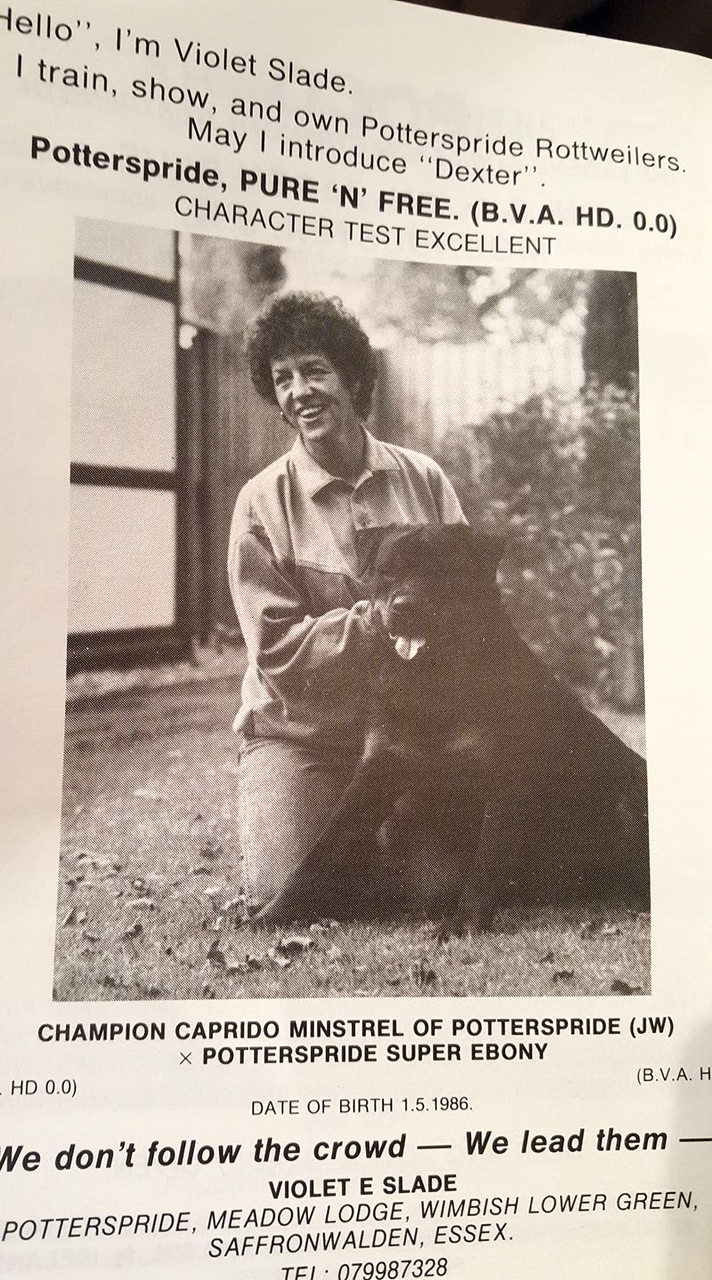 An old advert from the 1980's
PLEASE NOTE: WE NO LONGER BREED ROTTWEILERS.
THE HISTORY OF THE RUSSIAN BLACK TERRIER
The Magazine Hutchinsons Dog Encyclopaedia from the early 1950's Shows the Black and White photographs
of breeds used by The Red Star Army as working dogs at that time. It was from these breeds (Some now extinct)
we believe, the Russian Black Terrier was bred.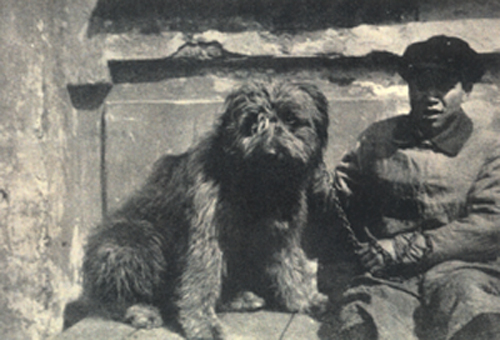 At a show of Watch and Police dogs held in ariding school in Leningrad "Mirochka" shown above
was ajudges best Russian Sheep Dog and earned a gold medal for it's excellent work as a watchdog.
As we breed more litters in the U.K. do not surprised occasionally
see 'Throw backs' to these earlier breeds which included white dogs and colour, also smooth coats.
Because the Rusian Black Terrier is a man made young breed.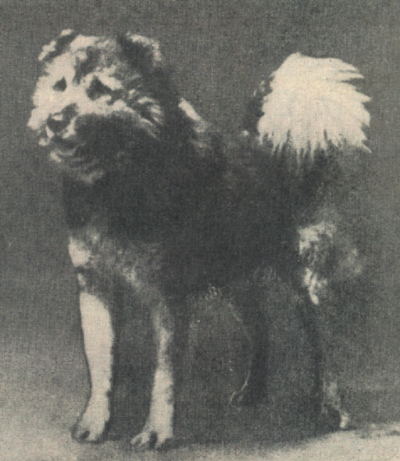 Caucasian Sheepdog was a prize winner at the Eighth Kartel Show at Nürnberg.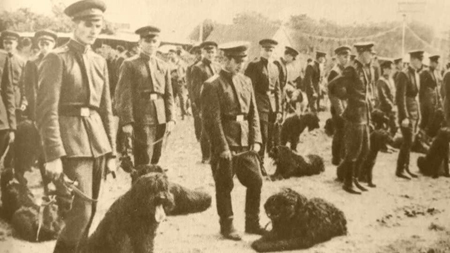 Interesting picture of Russian soliders with their dogs from the 1950's
Here is another example of a caucasian Sheep dog with a smooth coat at the point
of raising the alarm on duty.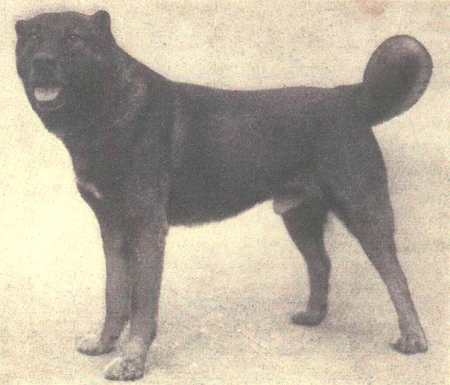 A sturdy specimen and good example of the Caucasian Sheep dog breed
and said to be incredibly faithful.
A CANINE SOLDIER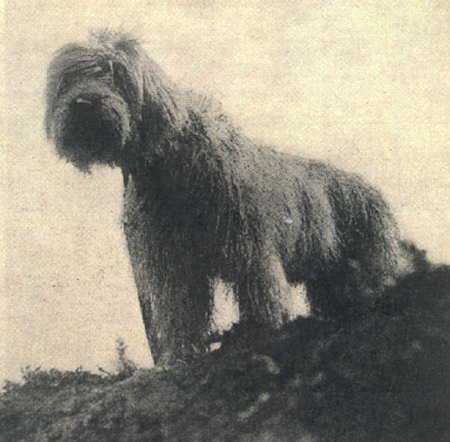 A recent picture, (early 1950's) taken near Moscow, showing one of the corps of
Ukraininan Sheepdogs. Thousands of these intelligent dogs have been trained
as canine messengers and are attached to the Red Star Army.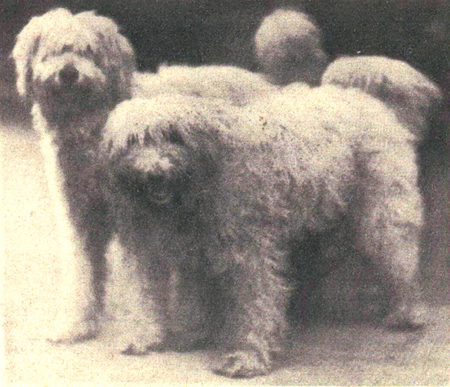 Ukrainian Sheep Dogs - dispite their untidy appearence they are a highly intelligent
working breed.
Now Read the Story of The Russian Black Terrier
Coming to the UK
In 1997 we were invited to Russia to judge a championship dog show.
The town of Yaraslavl, 200 miles from Moscow, our dream to meet the
Russian Black Terriers came true on this trip.
| | |
| --- | --- |
| PIllar of Potterspride (Nina, the first Rusian bitch from Moscow) with , her puppy Babushka. she produced this litter in 1998. There were eleven puppies sired by Ludvig, these proved to be the foundation of the breed in many other kennels. Babushka went on to produce the first Russians to be exhibited in the show ring in the year 2000, when they were accepted by the english kennel club and seen at Crufts Dog Show for the first time. | |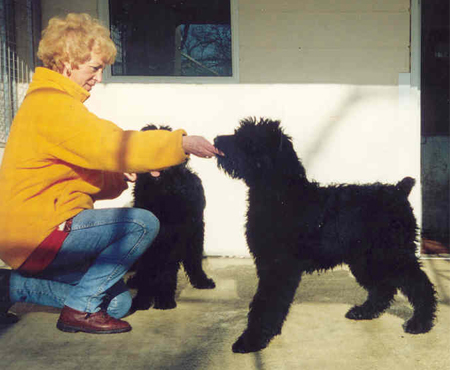 Ludvig and Nina 1997 Seen here in quarentine, this was the first pair to arrive
In October the people of Yaraslavl got together to send us this FIRST UNRELATED PAIR from Moscow to the UK,
with our dear friend Vladimire who is a teacher.
Ludvic and Nina, quarantined for 6 months.
On their release in April 1998, our second two arrived -
USLADES ANASTASIA A RUSSIAN PRINCESS (from Moscow 1997-2007) and
CLEYRA MOMART OF POTTERSPRIDE (from Prague 1998-2006).
| | |
| --- | --- |
| Violet and Marina Gerasimova at R.B.T. club show Moscow 2000 | |
In May 2000 I was invited to Mowcow to visit the CLUB FOR RUSSIAN BLACK TERRIERS CHAMPIONSHIP SHOW.
The president Mrs Marina Gerismova had bred a litter from world winner 'KRIS' and her bitch
'NESMEJANA BARBI. S. BRONNICH. I fetched a dog puppy home, born 14 March 2000.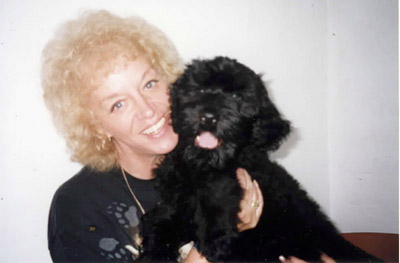 Our Kris in Quarentine 2000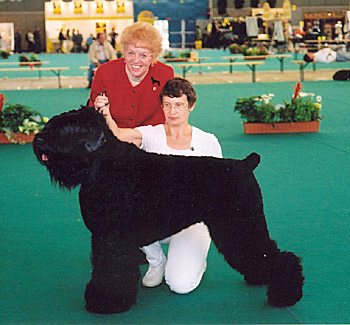 and here is his magnificent sire, seen here with his owner /handler
his full title is International Champion World Winner Kris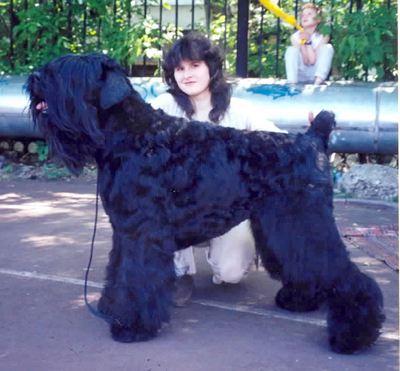 Supreme World Winner Bart Barbi S Bronich Sire of my Ludvic taken 2000
Our Kris was quarantined at Newmarket, Cambridgeshire, released November 2000.
With our 5 direct imports of different bloodlines, our foundation is now complete.
In 1999 we bred our 1st litter - Ludvic and Nina - 11 pups.
In 2000 we bred our 2nd litter - Ludvic and Cleyra - 12 pups.
In 2001 we bred our 3rd litter - Ludvic and Nina - 7 pups.
The Kennel club recognised the breed on September 1st 2000.
'Cleyra Momart of Potterspride' is TOP RUSSIAN BLACK TERRIER UK of year 2000
' Uslades Anastasia of Potterspride' runner up.
(The picture above right) Natasha working at Addenbrookes Hospital cancer unit in 2008)
The Russian Black Terrier is a most versitile working dog, he adjusts his temprement to
suit every enviroment, if he needs to be a family pet or personal protector of home or handler,
his intellegence has been perfected. Moving on towards this goal, we now would like to introduce
you to the first Russian P.A.T. dog UK. (Pets As Therapy) She visits the elderly and unwell people
to bring pleasure and improve their lives. Once more proving their wonderful tempremant
as an all round dog.
A fine example of a superb dog, seen here in Moscow. This is Champion Kait Krait
Full brother to our Anya.
PLEASE NOTE: WE ARE CONCENTRATING ON OUR LATEST BREED.
......