To apply to join the R.B.T. Association, simply print out and complete the forms below
and post back to the address on the form
---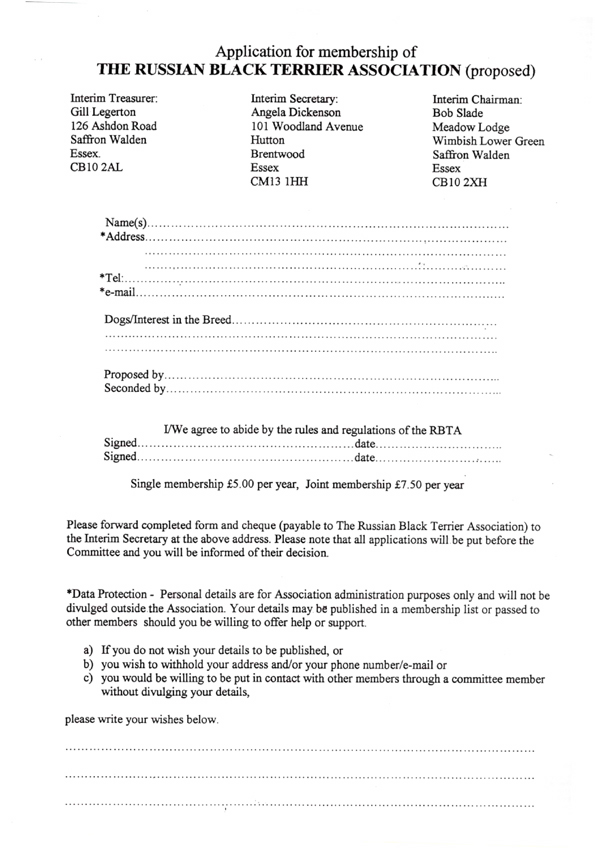 RBTA NEWS - MAY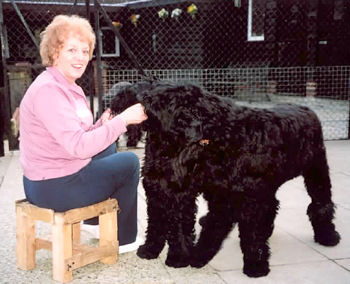 May I say a big 'Thank you" to all those Russian Black Terrier owners who wrote,
phoned and sent cards to Bob on his recent hospital stay for his heart problems,
or as my Grandson Reuben says "Grandpa's dicky ticker" Now home and slowly
getting back to normal - We attended The Black Russian Terrier Association
workshop day on April the 2nd at Dunmow, Essex.
Main speakers were Mike Smith (Fernwood) who fetched 3 dogs along to
show us the "Show dog trim" very smart. Barry Black who was a professional
trainer with the armed forces. Drug dogs and tracker dogs all aspects of training
were covered. by him and his bitch INKA.
I helped with behaviour questions, feeding and training problems.
Gill Legerton who is a very experienced 'Corgi' breeder and judge
helped with The KC Bronze Good Citizen Test. All 8 Dogs who entered
passed well and Mike Smith awarded certificates and gave a short overall
view of the dogs attending - Angela Dickenson the secretary will give a
complete report in the summer newsletter.
They will be available at 'All about dogs' weekend at Brentwood on
May 13th and 14th. A stand area has been set aside for the RBT owners
and dogs this year, so do try to come along for all those tips and advice.
After lunch on the workshop day our groomer 'Angela'
(Linda Forsyths sister) did demonstrations on puppies and adults,
gave advice on equipment needed to get to get to grips with tangles and knots.
She Trimmed one side of a year a year old bitch puppy then the owner did the
other side, this proved to be very popular and interesting- She should how to
powder and pluck ears and trim the webbed feet correctly.
About 40 people attended the buffet lunch, all home made baking was wonderful.
The cakes made by Marleen Harrington along with the raffled raised £100 so all went well.
Plans for another workshop day in th e Autumn are now well under way.
The R.B.T.A has more than 100 members so we feel it's a useful teaching
exercise as well as being good fun.
Violet